We are proud to have been reporting Lockhart and Caldwell County news for the last 141 years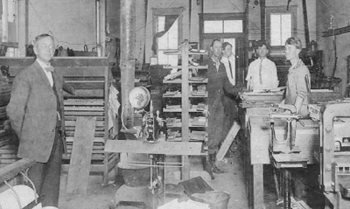 Founded as the News Echo in 1872, the Lockhart Post-Register merged several times with newspapers which included the Caldwell Register (1879) and the Lockhart Post (1899). The newspaper has kept the name Lockhart Post-Register since 1915.Inside the Lockhart Post-Register in the 1920s L-r William M Shofield, Bob Andrews, Stanley Mohle, Nep Stoker, and J. Louis Mohle, Sr. Shofield owned interest in the newspaper from 1913- 1940, Andrews from 1913-1928, the Mohles bought interest in the business from the 1920's until they owned it all in 1940.
The Garrett family purchased the newspaper in 1979. Dana & Terri Garrett manage the newspaper today.
(USPS 317-200)
Lockhart, Caldwell County,
Texas 78644
Entered as Second Class
Matter at the Lockhart Post
Office under the Act of
Congress, March 3, 1872
Published each Thursday by
Garrett Publishing Co., Inc.
SUBSCRIPTIONS BY MAIL:
$32.00/Year    $52.00/2 Years
Across U.S.A.: $42.00/Year
Staff Directory
DANA GARRETT
President/Publisher
TERRI GARRETT
Business Manager
KATHI BLISS
Editor
PATTY RODRIGUEZ
Office Manager/Sales
OLAN TOMME
Advertising Sales