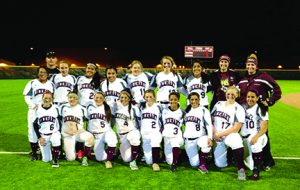 The Lady Lions defeated the cialis 5mg cost Marble Falls Mustangs in two games last weekend to earn an Area Championship and ordering viagra without a prescription advance to the Regional Quarterfinals, where they will face the Leander Lions.
During Game One on Thursday, the Lady Lions scored a resounding 8-2 win.
Gabby Ybarra led off the second inning with a single and advance to second on a sacrifice bunt by Katrina Mills. Ybarra scored the first run off a throwing error by the catcher, who attempted to pick her off at second.
In the third, with two outs, Mackinzee Griebel sliced a single to center. Griebel quickly stole second and Alicia Garcia knocked in Griebel with a double to generic viagra super active right. Mikaela Flores reached first on http://www.joannahenderson.com/generic-cialis-next-day-shipping a throwing error by the third baseman and Garcia wheeled around to score.
Ybarra came up with her second hit of the game as she ripped a stand up triple to right to score Flores.
Lockhart scored their last three runs in the top of online viagra purchasing the seventh. Zierra Gonzales led off with a single to left. Gonzales stole second base and scored from second on a single to center by Griebel. Flores also singled to left field to move Griebel to third and Ybarra knocked in Griebel with her third hit of the game. Flores scored off of a fielder's choice out on a ground ball to generic levitra for sale in canada first hit by Mills. Giselle Maciel used her quick foot speed to beat out a ground ball to first that allowed Ybarra to score the Lady Lion's eighth run of the game.
Flores earned the viagra cialis online order win in the circle, striking out five batters and allowing seven hits. The Lady Lions committed three errors in the game.
Both teams returned to Georgetown Eastview on Friday for Game Two of the three-game series. After a tense seven innings, the Lady Lions came away with a 9-7 victory, and the Area Championship.
The Lady Lions took an early 2-0 lead in the first, thanks to two walks and just try! a hit batter in the first inning.
Griebel and Flores were able to score on wild pitches.
The Lady Lions scored three more runs in the third inning. Griebel reached first on an error by the center fielder. Garcia smashed a double off the left field wall to score Griebel.
Courtesy runner Aslynn Garcia entered the game for Alicia Garcia and eventually scored off an error by the third baseman.
Mills, Maciel, Dupert, Amanda Sigala and Gonzales put up a string of singles, but the Lady Lions were able to score one more run that inning.
In the fifth, Maciel led off the inning with her second hit of the game. Maciel scored from a single by Gonzales to http://maria-mendes.com/viagra-attorneys center.
Lockhart pushed two more runs in the sixth inning. Garcia came up big again with her second double of the game. Mills knocked in courtesy runner Aslynn Garcia with a short fly ball that fell in shallow center. Maciel found a huge gap in left-center for a stand up triple that also scored Mills.
The Lady Lions will go up against Leander this weekend in the Regional Quarterfinals, as they continue to chase their championship dreams. The Leander Lions have had a good season, finishing second in their District and coming into the best-of-three contest with a 13-9 (7-3) record. The series will be held at Austin ISD Noack Softball Complex on Friday, May 10 and Saturday, May 11. Game One will start on Friday at 7 p.m., with Game Two following on Saturday at 11 a.m. If Game Three is sedonaeventsalliance.com necessary, it is tentatively slated at 1 p.m. on Saturday.
To get to the Noack Sports Complex, follow Highway 183 north, past the river and toward Manor Road. Exit Manor Road and turn right on canadian pharmacy discount code viagra Purple Sage Drive, then left on Lazy Creek Drive. The Softball Complex is on the left, at the intersection of Lazy Creek and cialis in the usa Crainway.
The community has arranged a send-off for the cialis buy online Lady Lions as they travel to Austin this week in the next round of price of cialis in canada playoffs. Lady Lion fans are asked to gather on the Caldwell County Courthouse Square on Friday afternoon, by 3:30 p.m., to give the team a boost of hometown support.