Alfonso Lucio "Chato" Garza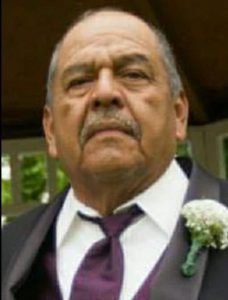 Alfonso Lucio "Chato" Garza, 62, of Lockhart, Texas passed away on December 13, 2017. He was born on January 15, 1955 in San Marcos, Texas to Zacharias Garza and San Juana Lucio Vasquez.
He was a huge Steelers fan. He was a current employee for the City of Kyle in the Public Works Department where he enjoyed building roads. He loved work and his grandkids. To all who loved him they called him "Dada" and as for the family he was known as "Chato".
He was preceded in death by his parents and his brother, Victor Garcia. He is survived by his wife of 44 years, Juanita Lopez Garza; three children, Raquel Armenta, Alfonso Joshua Garza and Mario Garza; four grandchildren, Zachary, Heaven Lee, Giovanni and Santana; four great-grandchildren, Raena, Chloe, Penelope and Rylee; four brothers, Ramon Garcia, David Garza, Frank Vasquez and Paul Vasquez; and three sisters, Rosa Lopez, Delia Flores and Pauline Botello.
Family received friends at McCurdy Funeral Home, from 1 pm to 9 pm, Sunday, December 17, 2017; with Recitation of the Holy Rosary at 7pm. Mass of a Catholic Burial was celebrated at 10 am., Monday, December 18, 2017, at St. John's Catholic Church in San Marcos. Interment followed at Guadalupe Cemetery.
Arrangements are under the care and guidance of McCurdy Funeral Home, 105 E. Pecan, Lockhart, Texas, 78644.
To view and sign the guestbook, visit www.post-register.com/obituaries/alfonso-garza.