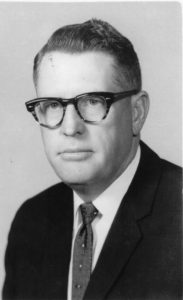 Archie Alton Roberts died peacefully in his sleep on March 12, 2018 at the age of 93.
He is preceded in death by his infant daughter Linda Joyce, his parents C. E. Roberts and Lutitia Roberts, his first wife Idell Roberts after 53 years of marriage, and his second wife, Marian Roberts after 17 years of marriage. Five brothers and and four sisters also predeceased him.
Archie was born in Wheelis, Oklahoma on September 5, 1924 but his family quickly moved to Wellington, Texas where the family farmed and ranched. Being the ninth child of eleven children, family, hard work and education became the guiding principles of his life. Archie graduated from Wellington High School and after he began dating Idell Smith, followed her to West Texas State Teachers College in Canyon. During one of their dates, the couple heard about the bombing of Pearl Harbor. The nineteen year old couple married in Archie's parents' living room before Archie took a train to leave for the U. S. Army and serve on the European front. Archie was always proud of his service during World War II.
When the war ended, the couple resumed their education and began a family. Archie completed a Master's in Education and began his career in Higgins, Texas as a teacher and coach. While there, they survived a terrible tornado that virtually destroyed the town and killed many citizens.
Archie then moved to Pampa, Texas where he was assistant principal at the high school. After three years, Archie left for Lefors, Texas to serve as superintendent of schools.
In 1955, the family left the Texas Panhandle to go to Beeville, Texas as superintendent of schools. Only 31 years old, Archie enthusiastically took on the challenge of a much larger school system. One of his practices was to send a card to each student on his birthday and many students remembered this fondly.
He became active in many education professional organizations and served as state president of the Texas State Teachers Association, President of the Texas Association of School Administrators and was selected as superintendent of the year by the Texas School Business Association.
After seventeen years in Beeville, Archie undertook a new challenge and moved to Austin to work with the Texas State Teachers Association. He was assistant associate director of TSTA under E. L. Galyean. He worked there until his retirement in 1979.
Throughout his life, Archie had always ranched on the side and at retirement moved near Lockhart to a country home with acreage in Mendoza where he gardened, raised cattle and horses as well as goats, chickens, rabbits, and pigs.
Archie and Idell joined the Lockhart Baptist Church and made many friends. They also became members of the Red Brangus Cattle Association and enjoyed many friends and experiences. Idell died unexpectedly at the age of 73 in 1998 and Archie was devastated. Luckily, he met Marian Evans, a widow with many common interests. They married in March 2000 and Archie sold his farm and moved with Marian to Austin where they had a busy social life and travelled frequently.
In January 2009, Archie and Marian made the difficult decision to sell their lovely home and move to an apartment at the Longhorn Village in Steiner Ranch. They promptly made more friends and enjoyed their new lifestyle. Marian's health deteriorated and she moved to the skilled nursing section of Longhorn Village. Archie could be seen each day walking over to be with Marian. As his health declined, he had to use a wheeled walker but still faithfully went to see Marian. Archie's health took a sudden downturn and he moved to skilled nursing in March 2017. Marian passed away in October 2017.
Archie leaves behind his legacy of family and the importance of education to his three daughters—Marilyn Eanes and husband Phil of Round Rock, Carolyn Kasprzyk of San Antonio, and Katheryn Matheson and husband Randel of Skidmore. There are also 8 grandchildren and 12 great grandchildren. Marriage to Marian added Gayle Nixon and husband and Mike of Austin, Linda Kay Arnold of Austin, and Robert Arnold and wife JoAnn of Frisco as well as numerous grandchildren and great-grandchildren.
Services were held at First Lockhart Baptist Church on Friday March 16 with a graveside service with a military flag ceremony.
The family wished to thank the caring staff at the skilled nursing facility at Longhorn Village and Heart to Heart Hospice. Memorials may be made to the First Lockhart Baptist Church in Lockhart or your favorite charity.