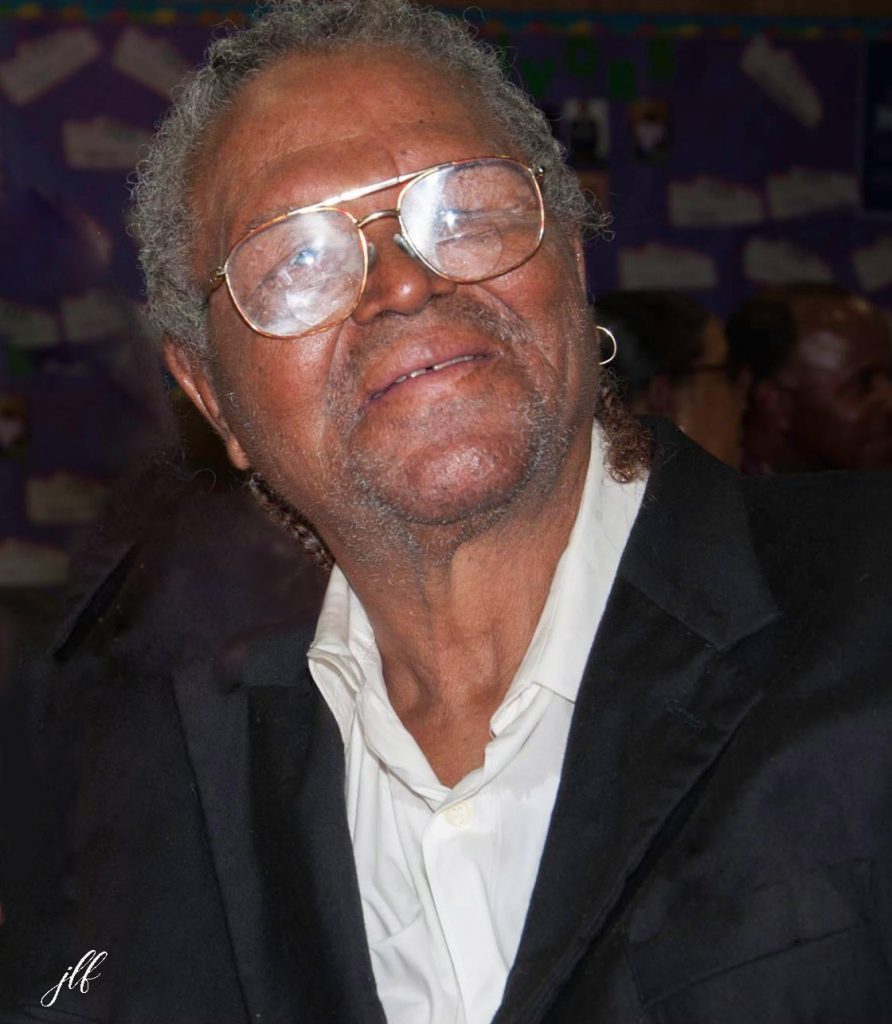 March 23, 1950 the gentle giant, precisionist and humorist, Edgar Lee Freeman was born to Arthur and Thelma Freeman of Kyle, Texas; died February 26, 2022. Edgar Lee had confessed a hope in Christ our Savior at an early age as a member of St. Mary's Missionary BC; he later moved his membership to Mt. Sinai Missionary BC (Pastor Anthony Mays) later to take comfort in the watch care of the Center Union Missionary BC, Creedmoor, Tx. (Pastor James Matthews).
Edgar Lee, we called Sam, as a child grew to be a driving force in helping to support a family of eight; a force heavily depended on. The challenge he endured by his physical sight did not slow the determination, commitment and resolve to greet obstacles life brought before him with a confidence bound to succeed. From milking the cows before dawn and feeding the pigs before homework; all things related to life on a farm; Sam was there. Never invoking the repeated cajoling, as most did, from parents. Sam knew what was expected and did what was expected and never had to be asked a second time. He often reminded us younger siblings, "You know what you have to do just get up and do it. It's easier." Sam's physical stature was as upright as was his mental resolve. Towering and well attired in his cut-off overalls or not; Sam was a voice of peace and calm. No matter how grave situations became he remained the voice of calm, cigar in hand, he loved unconditionally and wore it well.
Outstanding was Sam's love of family, he let it he known from childhood to adulthood that he wanted always to be in the embrace of his family, oh, he would enjoy the occasional week or so away, but Sam's one expression was to be in the embrace of his family and there should never be any occasion to prevent such. Proven by his commitment and determination to be at his mother's side day in – day out during her 10+ failing years. He was there still being the voice of calm, the presence of steadfastness with the resolve of it having to be done.
As an adult Edgar's chose to provide for his wife and daughter, where? In the embrace of family. Sam became well known in the community as a precisionist in his work. He worked supposedly as a helper in his father's business as a homebuilder, farmer and hay production. Anyone with any experience as a client, neighbor or member of the community quickly came to respect him not as a helper in the business but as most stated, he became the business. His precision in math calculations astounding, while other struggled with pen and paper, Sam calculated with a process that required no pen nor paper, give him details he gave you answers in a fraction of the time others with pen and paper could. Even as his sight failed more rapidly in later years, his operation of planting, cutting, raking and bailing was flawless in the precision and appearance of field rows. He refused to bow to challenges.
His Dad always being there to exclaim "that boy" never miss cut a piece of lumber, sheet rock or siding. Once he went to inspect a modular home for a sibling before purchase was final. Upon his first step inside the modular home; he started rattling off construction flaws that had to be corrected. After the walk thru, the salesman looked at his Dad and said we would have to rebuild the entire house and the price would be…his Dad finished the salesman's statement saying the price will be the same and you've heard what my son said.
1992 the modular home rebuilt and delivered stood the test of time and beyond. As many even today marvel still at the integrity in the construction of the home with the commonly repeated statement "never seen a modular home built as sound and solid as this." His family's thoughts " this is a Sam Freeman home built on a Palm Harbor lot with Palm Harbor labor for a fraction of the cost. Nothing modular about it
Sam's shared this gift and many others too numerous to mention with family, friends, churches and communities alike, while freely providing his special gift of humor and laughter.
Preceding him in death, both parents:  Thelma and Arthur Freeman. Brother: Edward Freeman. Sons: Merle Quincy and Edgar Jr. Freeman. He leaves to mourn his departure, wife Charlene Freeman and daughter Precious Kavanaugh. Daughter: Denetria Carroll Serrato-Lassiter. Grandchildren: Beverly Rose, Michael Gabriel, Bailey, Daniel and Zoe.  Four sisters: Thelma Williams (Essic), Terry Freeman-Morris (Nathaniel), Delois Freeman and Sallie Freeman. Three nephews he thoroughly enjoyed spending time and working with: Essic Jr., Chris and Dominic. Two aunts: Goldie Freeman and Mary Gilbert. Two special friendships: Sally Yancy and Kenneth Miller along with a host of other special nieces, nephews, cousins, friends and acquaintances.
Viewing 4pm to 7pm Friday 11, 2022 at Phillips Upshaw & Richard Funeral Home, 1410 E. 12th St, Austin Texas 78702.
Funeral Services: 10:AM Saturday March 12, 2022 Mount Sinai Missionary Baptist Church, Anthony Mays, Pastor; Austin, TX,
.