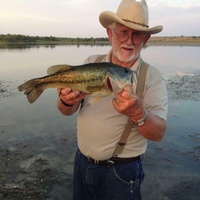 I've finished life's chores assigned to me,
So put me on a boat headed out to sea.
Please send along my fishing pole
For I've been invited to the fishin' hole.
Where every day is a day to fish,
To fill your heart with every wish.
Don't worry, or feel sad for me,
I'm fishin' with the Master of the sea.
We will miss each other for awhile,
But you will come and bring your smile.
That won't be long you will see,
Till we're together you and me.
To all of those that think of me,
Be happy as I go out to sea.
If others wonder why I'm missin'
Just tell 'em I've gone fishin'
Freddy Gene Cathey of Lockhart passed away September 14, 2018 at the age of 76. He was born in Austin, Texas to Curt and Viola Crawford Cathey. He enjoyed fishing and hunting.
Mr. Cathey is survived by his wife, Judy Brown Cathey; 2 sons, Curtis Cathey of Manchaca and Ryan Cathey of Canyon Lake; 2 daughters, Lisa Edwards of Kyle and Amanda McWhorter of Flower Mound; 8 grandchildren and 4 great grandchildren.
A visitation will be held on Monday, September 17, 2018 from 6- 8 pm at McCurdy Funeral Home. A funeral service will be on Tuesday at First Lockhart Baptist Church beginning at 10 am. Burial will be at Live Oak Manchaca Cemetery at 2 pm.