Fundraiser for injured deputy on Friday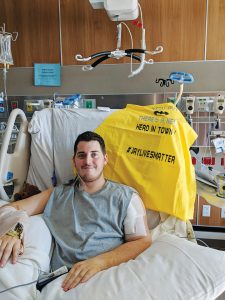 By Miles Smith
Editor/POST-REGISTER
Fundraising efforts to help the family of injured Caldwell County Deputy Jay Johnson have begun in earnest.
Friends and family members close to Johnson, 28, who has undergone several surgeries to repair damage wrought by gunshot wounds sustained during a Feb. 2 service call in Dale, say the deputy and his family could use a financial boost as he recovers and rehabilitates.
An account has been set up at First Lockhart National Bank to accept donations for the family under the name "Jay Johnson," said Sgt. William Miller, a spokesperson for the Caldwell County Sheriff's Office.
Friends of Deputy Jay Johnson – Caldwell County Texas is a Facebook page that is also providing updates on Johnson's progress, as well as helping raise money through a GoFundMe link.
Bastrop County is also getting into the act, hosting a Friday fish fry at Synergy, 971 TX-71 in Bastrop from 11 a.m.- 2p.m. The $10 to-go plates will include fried fish, French fries, cole slaw, hush puppies and a drink. Only cash and check will be accepted. The Bastrop County Sheriff's Office, Synergy Insurance and Investment Advisory Services and the Bastrop Association of Sheriff's Employees are sponsoring the fundraiser.
For the full article, pick up a copy of the Post-Register.