History, heritage honored at Hooks Cemetery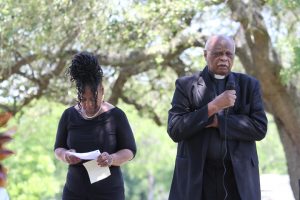 By Miles Smith
LPR Editor
History is important to 99-year-old Lorenza Watson, a black man who fondly remembers his days dressed as the Lockhart Lion mascot in the 1930s – long before integration arrived at the school district.
"The coach didn't like to call timeouts, so he'd have me run onto the field to give the quarterback the play," laughed Watson, whose smile and energy are that of a man decades younger than he, who will turn 100 later this year.
Watson joined a cadre of folks at the Hooks Cemetery on Saturday to commemorate the placement of a monument at the cemetery dedicated to African Americans in the 1950s. For more of the story and additional photos, read this week's Lockhart Post-Register.