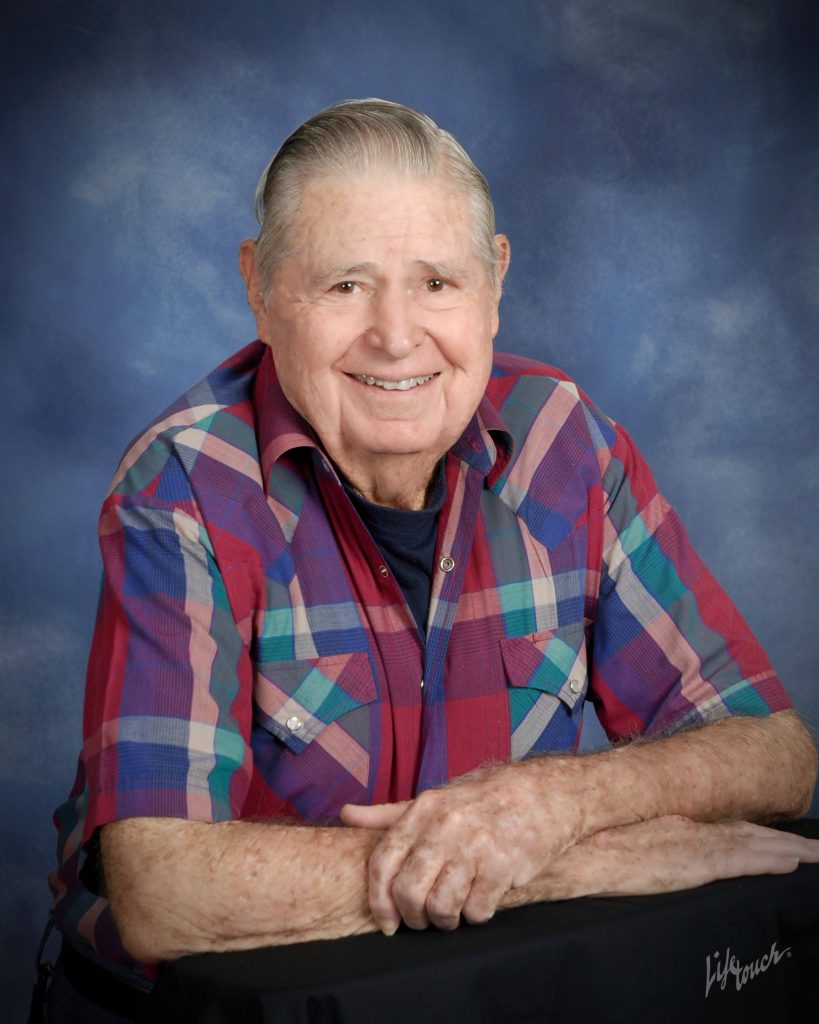 Jimmy Ray Rector, 89 beloved husband, father, uncle, educator and friend to many, passed away on August 22, 2022. Mr. Rector was born in Prairie Lea, Texas to the late Walter Lawrence and Sadie Marie (New) Rector on September 10, 1932. He is survived by the love of his life, his wife of 54 years, Ana (Sanchez) Rector and their precious son, James Robert Rector of Lockhart; his sisters-in-law, Cecilia Garza, Olivia Kelly, Oralia Sanchez, Mary Francis Rector and cousin Barbara Nell Fannin, along with numerous nieces and nephews who loved him dearly. He is preceded in death by his parents and brother, Jesse Glynn Rector (1998).
Mr. Rector attended Lockhart High School and graduated in 1951. Shortly after graduation from high school, he joined the United States Navy during the Korean Conflict and ended up serving four years before returning home. After the Navy, he worked construction with his uncle Bob and spent time with his dad, Walter, working in his nursery. His dad had a philosophy that he coined, "temporary", but Mr. Rector had other aspirations. He chose to pursue a degree in higher education.
Mr. Rector graduated from Sul Ross State University in Alpine, Texas in 1964 with a Bachelor's Degree in Education. His first job in education was in Eagle Pass ISD teaching migrant students, and teaching reading to 4th, 5th and 6th graders utilizing a well-known literacy program named after the UT University professor, Dr. Gusak. During his time in Eagle Pass, he met the love of his life and married Ana on September 21, 1968.
It wasn't until Mr. Rector was driving his wife, Ana, to night classes or her Bachelor's Degree that he decided to earn his Master's Degree in Education. Together they attended college and ended up graduating on the same day in 1977. Later he returned home to Lockhart due to his father's illness. While in Lockhart, he taught 6th grade form 1977 until 1990 when he retired from teaching due to his son's illness.
His dedication to teaching students was evident and his love of history motivated many students to follow that path in their personal lives. He loved structure in the classroom and students knew they needed to tow the line. His patience and loving spirit permeated throughout his warm relationships with fellow colleagues. He was always willing to help students, family members and his friends. During his time in Lockhart Intermediate School, once a month he sang with the Breakfast Lions Club. Singing was one his favorite hobbies and his favorite song was "Where the Roses Never Fade". Mr. Rector, as a person of faith and dedication, was ordained Deacon on November 14, 1993, at Clearfork Baptist Church, on the oldest churches established in 1848. He was able to practice his love of singing while being an active member of the church choir. He also attended mass at St. Mary of the Visitation with his wife and son accompanying them during church celebrations, gatherings and holidays. Love for his family was demonstrated in so many actions.
One of his fondly known hobbies was his love of cooking and his amazing baking skills. Many family members and friends have enjoyed his delicious cakes and pies over the years. He baked for numerous fundraisers and people indulged in his chocolate meringue, lemon and buttermilk pies. One if his favorite home cooked delicacies was beans and cornbread. Another impressive hobby was his dedication to tooling leather. Some of his fine intricate work included detailed belts, purses, and pistol holsters were inspired by his favorite TV show, Gunsmoke and other western shows.
His dedication and love for his wife and son were duly noted during the time he devoted to his son, singing songs nightly and playing "Pollyanna" a favorite game, using dice made with love by his grandpa Walter. He was a romantic, demonstrating his love for his wife with special greeting cards, jewelry and flowers on special occasions. His loving wife taught him to dance and in turn he taught her to hunt. His actions of love and patience will forever be in the hearts of his loved ones and friends.
All services will be held at St. Mary's Catholic Church on Thursday September 1, 2022, Rosary will begin at 9AM Mass at 10:00Am burial to follow at Lockhart City Cemetery.