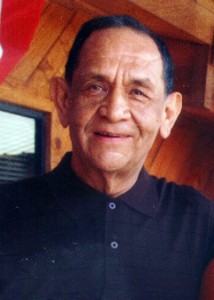 Johnny Castañeda passed away peacefully at his home, surrounded by his family, after a long and brave s

truggle with cancer on Sunday, Oct. 18, 2015.
He was born on March 30, 1945, in Lockhart, Texas, to Ramon and Guadalupe Castañeda. His whole life, he lived in Lockhart, where he raised his family, ran his business, and was a dependable mechanic for more than 30 years.
Johnny also spent time volunteering, serving with the Lions Club and the Greater Caldwell County Hispanic Chamber of Commerce, in various positions through the years.
More than that, though, Johnny loved spending time with his family and friends, telling jokes and making sure that everyone else was happy and taken care of. For the 19 months he battled disease, Johnny never complained and never gave up, fighting hard every step of the way. He will be remembered for that fighting spirit, for his courage, his huge, loving heart, his willingness to help anyone, any time, and most of all, for his beautiful smile.
Johnny was preceded in death by his parents; his brothers, Frank, Ramon, Nickolas, Cornelio and Ermando Castañeda; and his sister, Ysidra Reyes.
He is survived by his loving wife, Mary Castañeda; his devoted daughters, Stacy and Bethany Castañeda; his grandsons, John David and Matthew Urrutia; great-grandson, Aden Urrutia; sisters, Janie Saldana, Zeba Acosta and Mary Ann Stout; and many nieces, nephews and beloved friends.
The family offers thanks to Dr. Charles Laurence, Dr. Scott Becker and Austin Gastro, Dr. Jason L. Smith and Texas Oncology, Midtown ARA, Gentiva Hospice, and the entire staff of each of these offices. You mean so much to our family.
A memorial service for Johnny will be held at Life Unlimited Church, 2301 S. Colorado, in Lockhart, at 10:30 a.m. on Saturday, Oct. 24. Afterward, the family invites friends for food and fellowship at Cedar Hall, 1721 S. Commerce St., in Lockhart.