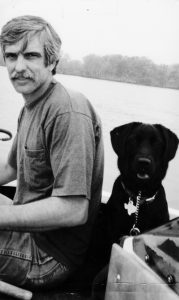 Leslie James Kaiser, born April 7, 1957 in York, Nebraska, entered into eternal Peace on June 11, 2018 at home in Lockhart, Texas.
He was welcomed into Heaven by his precious sister, Jackie Lea; his father, James Dean Kaiser; grandparents, Erwin and Florence Light, August and Emma Kaiser; nephews, Micky James Edmunds and Kaden James Lage; father-in-law, Ernest Gallat and mother-in-law, Irene Gallat.
Left to keep his memory alive are his mother, Rowena Batterton and step father, Les Batterton; wife, Barbara J. Lind Kaiser; sisters, LouAnn Bieck (Terry Edmunds), Sherri Scott (Jeff); nieces, Melissa Lage (Trent) and Casey Winkelman (Josh); nephews, Jesse Scott (Jasmine), Aaron Shepherd, Andy Carlson and Nicolas Carlson; great nieces and nephews, Maelin, Renna and Seger Lage, Haamid, Jibreel and Malik Scott; and step sisters, Johna Meints and Becky Batterton.
As a young boy Les grew up in Casitas Springs, CA enjoying motorcycles, friends and family. He moved back to his hometown, York, NE at the age of 15 and graduated from York High School in 1975 before he continued his education at Milford Southwest Community College. Les finally made it to Texas in 1980, working at the Steel Company in Kyle for 27 years. He began as a truck driver and worked up to Project Estimator until his retirement in 2016. His love for family, fishing and hunting brought him boundless joy. He and his wife, Barbara, enjoyed the ranch life and their many fur babies including: Tweeny, Cosmo, Sweet Pee, Stormy, Sunny and Inky. Their faith in God gave them hope, just as it still does.
A visitation was held on Tuesday, June 12, 2018 from 5-7 at McCurdy Funeral Home, Lockhart, TX. Graveside services were at the Lockhart City Cemetery on Wednesday June the 13th at 4 p.m.
Arrangements are under the care and guidance of McCurdy Funeral Home, 105 E Pecan St, Lockhart.
To view and sign the guestbook, visit www.post-register.com/obituaries/Leslie-James-Kaiser.