Lockhart man arrested, charged with murder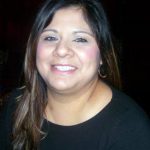 By LPR Staff
Editor/POST-REGISTER
A Lockhart woman is dead and the community is reeling this week aft

er what started as a squabble turned deadly on Sunday.
According to a report from the Lockhart Police Department, 36-year-old Angie Mendez (above) was pronounced dead at Brackenridge Hospital early Monday morning after sustaining injuries during an argument with her boyfriend, Michael Anthony Perez, 41.
Mendez told family members and friends that while walking with Perez to her home on Pendergrass Street, the couple became involved in an argument over the fact they had missed their ride. Perez pushed her to the ground, she said and "put her face in the dirt."
The pair parted company some time after the altercation, which appears to have been far more serious than Mendez, the mother of three, originally claimed.
Throughout the morning on Sunday, her condition deteriorated, until Lockhart EMS was finally called at 1:21 in the afternoon. After performing CPR on Mendez at the residents, paramedics transported her to Seton Kyle, where a nurse contacted authorities and said she had sustained injuries that were consistent with an assault.
She was transported from Kyle to Brackenridge via StarFlight. An arrest affidavit issued for Perez on Monday said doctors at Brackenridge reported acute swelling of the brain, and internal abdominal lacerations, which they said were likely the result of blunt trauma to the head and abdomen. Although a medical examiner's report had not been released by press time, doctors said the injuries were fatal.
At least one witness said he had spoken with Perez after the assault, and he did not deny he had pushed Mendez to the ground. The statement he gave to police was not made available to the media, but Lockhart Police Captain John Roescher said Perez's account of the events on Sunday was not consistent with Mendez's pattern of injuries.
Perez turned himself in to the Caldwell County Jail on Monday evening, and is being held on a charge of Murder, with bond set at $100,000.
Perez has a local criminal history of drug charges, but despite rumors that the pair historically had a volatile relationship, the Lockhart Police Department shows no prior record of assault or domestic violence.
The Mendez family declined public comment on the matter, asking for privacy to mourn and cope with their loss.
At her request, there will not be a funeral, and Mendez's remains will be cremated. However, the family will receive friends at McCurdy Funeral Home on Friday, May 27.