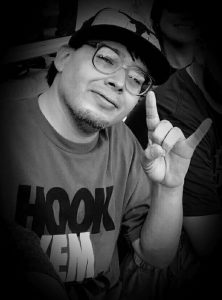 In Loving Memory of
Mr. Mark Anthony Martinez
January 1, 1971 – May 8, 2018
On Tuesday, May 8, 2018, the lord gained an amazing angel and was rejoined with his son Adrian. He was a son, brother, father and friend. Mr. Mark Anthony Martinez was a kind soul.
He left behind his parents Mr Robert and Sara Martinez his two beautiful daughters, Adelena and Adecela, his brothers Ronnie (Amanda), Michael (Brooke), sisters Jennifer (Johnny), Loretta (Larry) as well as a fiancé, Regina, he adored, along with his 5 stepsons and his huge family, and friends that he loved deeply.
Mark was known to always have a smile on his face and his laugh was contagious. He was very involved with his community and always helped others when they were in need. His love for sports and Stevie B was known to everyone. He was the one everyone wanted on their team, wanted as their coach, and in their lives.
Recitation of the rosary will be at 7:00 p.m. Monday, May 14, 2018 at DeLeon Funeral Home. Funeral mass will be celebrated at 10:00 a.m. Tuesday, May 15, 2018 at Immaculate Heart of Mary Catholic Church in Martindale, Texas. Burial will follow in St. Mary's Cemetery.
Pallbearers; Brandon Martinez, Jaime Maciel, John Cruz, Johnathan Silva, Mitchell Meitler, Julian Munoz, Juan Carlos Munoz, Brandon Bruno and Ricardo Enriquez.
Services are under the direction of the DeLeon Funeral Home, 110 Cedar St., Lockhart, Texas 78644, (512) 376-6200
To view and sign the guestbook, visit www.post-register.com/obituaries/Mark-Anthony-Martinez