Michael William Lucas Sr.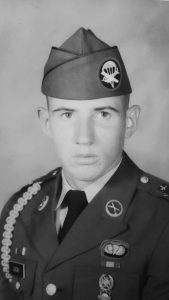 Michael William Lucas Sr., 68, of Lockhart, TX passed Monday June 25, 2018.
A celebration service of his life will be held from 10 a.m. –1 p.m., Friday, July 20 at the Omni Austin Hotel at Southpark, room #104, at 4140 Governors Row, Austin, TX 78744.
Michael was born Aug. 13, 1949 in Hardin, TX., attended Lockhart High School in 1966, and Southwest Texas St. in 1972. Michael was a Vietnam Veteran who served in the 101st Airborne Division. He was a gifted athlete, a writer of poetry, and was also an avid Civil War historian.
Michael is survived by his son, Michael Jr., his siblings Tom and Betty, his Aunt Sheila, as well as several nieces and nephews. He was preceded in death by his parents Bill and Elizabeth, and his sister Candice.
In lieu of flowers, we suggest a donation to the Wounded Warrior Project.
To view and sign the guestbook, visit www.post-register.com/obituaries/Michael-William-Lucas-Sr.