Six dead in Caldwell County crashes
By LPR Staff
Editor/POST-REGISTER
As the home of the fastest highway in the nation, Caldwell County gained notoriety in 2012 when SH-130 opened with a posted speed limit of 85 mph. Last week, the highway claimed five more lives, including those of two children, when a vehicle lost control and rolled over with a family of nine inside.

The crash happened a year to the day after a similar incident, in which a family of 12 was in a vehicle that rolled over, killing three.
Blowouts were to blame in both crashes, according to officials at the scene. Also at play was the fact that the occupants were not properly restrained in seat belts or car seats.
In last Thursday's crash, which happened just after 7:30 a.m. a Round Rock family was traveling on SH-130 toward their home in Round Rock, after a family visit to Mexico. What appeared to be a blowout caused the driver to lose control of the Ford Expedition, which careened across the median, rolling several times and ejecting all nine passengers, including six children.
Four were declared dead at the scene, and five children were transported to area hospitals with a variety of life-threatening injuries. One of those children did not survive.
Mireya and Antonio Esquivel and their son, Jorge, 14, were all declared dead at the gruesome scene on Thursday morning, as well as Mireya's mother, Maria Carranza.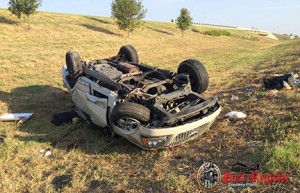 According to a fundraising website set up by the family, 4-year-old Nathan died at Dell Children's Medical Center on Friday, after suffering traumatic brain injuries and being removed from life support.
The only daughter, 5-year-old Blanca, was thought on Friday morning to be facing death as well, but reports surfaced over the weekend that the child, still in a medically induced coma, is expected to survive, with a long road of recovery ahead of her.
Junior, age 2, also suffered brain and spinal injuries, and remains hospitalized, expected to be paralyzed from the waist down.
The two remaining children, Santos, 9, and ChoChe, 3, have been released from the hospital and are living with family in the Round Rock area.
As of Wednesday morning, the family's GoFundMe.com account had raised more than $31,000 of the $40,000 they have requested to help offset the cost of funeral services, and medical care for the children. They also announced that funeral services for the five family members killed in the crash will be held at St. William's Church, 620 Round Rock West Dr., in Round Rock, at 10 a.m. on Friday.
In an unrelated incident, Niederwald resident Juan Castillo was killed on Friday afternoon, just after 1 p.m., when a car he was driving was struck in the driver's side door by a passing commercial vehicle on Highway 21.
Officers at the scene said Castillo had returned home for lunch from his job as an auto technician at an area car dealership, and that when he pulled on to Highway 21, he failed to yield to the oncoming truck.
One other car was involved in the accident as the weight of the commercial vehicle caused it to jackknife, pushing Castillo's car into oncoming traffic. An adult female was transported to Seton Kyle with non-life-threatening injuries, while a 9-year-old in that car was released at the scene.
The driver of the 18-wheeler was not injured in the crash that snarled traffic on Highway 21, Highway 183 and Schuelke Road for hours on Friday.
Services for Mr. Castillo were still pending at press time.