Volunteer firefighter killed in Caldwell County crash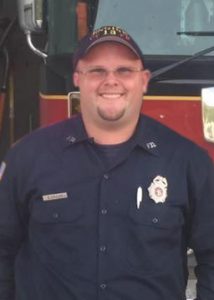 By Miles Smith
LPR Editor
A volunteer off-duty firefighter was killed in a three-vehicle crash early Friday morning on TX-21 in Caldwell County.
Chief Ken Bailey with Chisholm Trail Fire Rescue said Nick Zoulek, a CTFR volunteer firefighter, was killed between Niederwald and Uhland while on his way to work.
Pct. 3 Justice of the Peace Ben E. Brady said he pronounced Zoulek dead at the scene at about 4:40 a.m. Friday.
"It happened about 100 yards from my house," said Brady, who noted that the wreck had occurred in the 12200 block of TX-21. "I was at the scene about 10 minutes after it happened."
Brady said the crash involved three vehicles and that EMS had transported two people to Seton in Kyle.
Texas Department of Public Safety spokesperson Robbie Barrera said she had not yet seen the preliminary report from the state trooper investigating the accident as of Friday afternoon.
Brady said the fatality was the sixth he'd seen on that stretch of roadway since he took office in January 2015.
"It's a really dangerous part of 21," he said. "If you're heading east on 21, it's hard to tell what lane you might be in. It's very easy to get disoriented."
CTFR Chief Mark Padier said Zoulek lived near Mustang Ridge and leaves behind two children. The fire department is currently taking donations to help the family at the station, which is located at 9835 FM 1854 in Dale. Padier said those interested in helping could contact him at 512-216-4877.
"I've been doing this 26 years and I've never had to bury one of my own firemen until now," Padier said. "I consider myself fortunate."