Lockhart runs to 13th place finish at state meet
ROUND ROCK – The Lockhart cross country team had a few familiar opponents at Saturday's UIL State Cross Country Championships.
District 25-5A foe Austin LBJ was the surprise of the Class 5A boys race at Old Settler's Park in Round Rock, finishing second behind team champion El Paso Eastwood. Despite the Jaguars having three runners finish in the top 20, Eastwood took home the Class 5A state title with 62 points.
Lockhart raced to a 13th place finish,
The Lions had 303 points to place ahead of Canyon Randall (344) and Lukin (410) in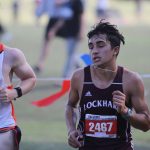 the team standings.
As for Lockhart, the Lions were paced by junior River Bailey's 35th place finish. Bailey ran the 5-kilometer course in 16 minutes, 23.19 seconds.
Junior David Mendez-Serrato was the Lions' second runner to cross the finish line with at time of 16:44.22.
Johnny Castanon, one of three seniors, finshed in 153rd with a time of 16:54.95 ahead of junior Henry Gomez, who finished in 227th place with a time of 17:03.27.
Senior Leo Sandoval was Lockhart's final scoring runner and finished in 303rd place with a time of 17:42.43.
Freshman Anthony Parra and senior Ian Flores also participated in Saturday's championships and finished in 391st and 492nd place, respectively.
It was a successful season for the Lions.
Lockhart placed fourth in the Region IV-5A championships in Corpus Christi behind champion LBJ, Boerne Champion and Dripping Springs. Bailey placed sixth overall.
Lockhart was also the District 25-5A runner-up behind LBJ.
News and notes ­­­­­from the state meet:  For nearly a decade, Luling's boys cross country team has hoisted a state cross country championship.
As with all dynasties, the Eagles' run of eight straight state titles came to an end Saturday as Eustace knocked off the Eagles for the Class 3A state championship at the UIL cross country state meet. Luling's Edwin Zamudio, a junior, paced the Eagles with a third-place finish. He finished the five-kilometer course in 16 minutes, 22.43 seconds. Junior Aden Gonzales was Luling's next top finisher at 67th.  … Westlake junior Elise Smoot ran Saturday's race after having a root canal Friday. She finished 79th overall with a time of 19:46.33. … Class 3A saw a repeat of individual state champions. Kevin Baez of Vanderbilt Industrial and Jenna Brazeal of Little River Academy both won their second straight championships. Sundown's Steven Quintanilla repeated as the Class 2A boys cham­­­pion. London Culbreath of McKinney North and Graydon Morris of Aledo won their second straight girls and boys Class 5A state titles, respectively. … Wellington's Kyla Kane was the only freshman to take home a individual state title. Kayne claimed the Class 2A girls title with a time of 11:42.03. … History was made in the Class 2A girls' race. San Saba won its first state title by beating last year's champion Sundown. San Saba finished second in 2017.