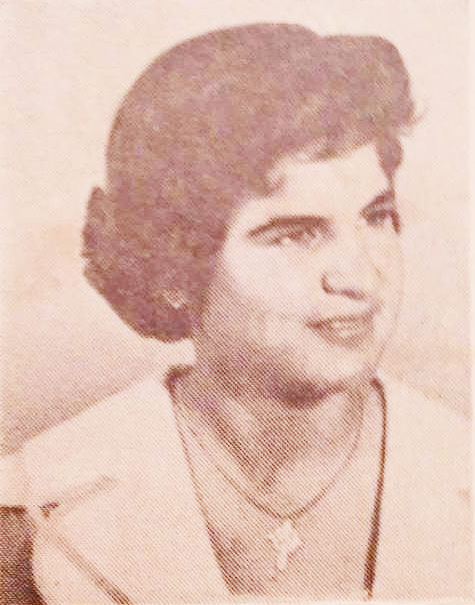 In Loving Memory of Asension D. Longoria
August 15, 1941 – November 3, 2023
It is with heavy hearts that we announce the passing of Asension D. Longoria, who entered eternal rest on November 3, 2023, surrounded by her loving family. Ascension, aged 82, was born on August 15, 1941, and her legacy will forever be etched in our hearts.
Ascension's life will be celebrated at DeLeon Funeral Home, where visitation will commence at 5:00 p.m. on Wednesday, November 8, 2023. A recitation of the holy rosary will be held at 7:00 p.m. to honor her memory. On Thursday, November 9, 2023, a funeral mass will be celebrated at 10:00 a.m. at St. Mary's Catholic Church with Father Ed Kasarek officiating. Asension will find her eternal rest in San Pablo Cemetery.
She was preceded in death by her father, Trinidad A. Degollado, and her mother, Rita H. Menchaca, as well as her husband, Gabriel Longoria, her son, Sancelso Longoria, her grandson, Darian Longoria, and her brothers, Joe Degollado and Guadalupe Degollado.
Asension leaves behind a legacy of love and devotion. She is survived by her siblings, Manuela Alcantar, Dolores Almaguer Degollado, Trinidad Degollado, Anna Degollado, and Rita Castillo. Asension is also survived by nine children, numerous grandchildren, and great-grandchildren.
Ascension's love knew no bounds, and she had a special passion for sewing and knitting, creating beautiful pieces of art that will be cherished for generations. She found joy in watching her favorite novelas, with "Nosotros los guapos" holding a special place in her heart.
Above all, Asension was a dedicated mother and grandmother. She had a unique way of showing her love and care, as she would call each of her children and grandchildren individually to ensure they had eaten and were doing well. She made it her mission to ensure they took good care of themselves, a testament to her unwavering love and devotion.
Ascension's presence will be deeply missed, but her love and memories will forever live on in the hearts of those she touched. She leaves behind a legacy of love, family, and the importance of caring for one another.
If roses grow in Heaven Lord, please pick a bunch for me.
Place them in my mother's arms and tell her they're from me.
Tell her that I love and miss her, and when she turns to smile, place a kiss upon her cheek and hold her for a while.
Because remembering her is easy,I do it every day,
But there's an ache within my heart that will never go away.
In this time of sorrow, let us remember the joy and love Asension brought into our lives. We will forever cherish her memory, and her spirit will continue to guide and inspire us.
Rest in peace, dear Ascension, and may your soul find eternal serenity in the arms of the Lord.
Services under the direction of Samuel J. DeLeon and Son / DeLeon Funeral Home