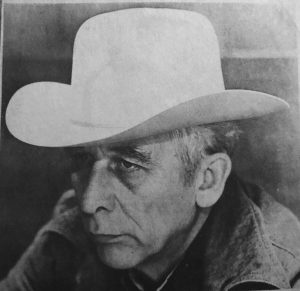 Benjamin Francis Archer, Sr., of San Marcos and Maxwell, Texas, died in home hospice on the banks of the San Marcos River at the home of his son Brian on January 27, 2018, after several serious illnesses in January. His wife Alida Rose Ravinet Archer preceded him in death in 2009.
Ben was born August 4, 1930, in Kansas City, Missouri, to Cecelia Byrne Archer and Burton Leon Archer. His father died when Ben was a young boy, and he and his older brother Bill were raised by their mother in a spartan working-class neighborhood. Ben earned his BA at the University of Missouri, where he met and fell in love with spirited Hoosier Alida Ravinet studying art at nearby Stephens College, and later received his MA at Indiana University, where his growing family soon reached five. When the Korean War broke out, Ben put his education on hold and enlisted in the US Army, where he served in the 330th Field Artillery Battalion near Stuttgart, Germany. After returning to his young family, Ben transferred to the Army Reserve until 1956. The GI bill allowed him to continue his education at IU, and in 1957 he moved to San Marcos to begin his 35-year commitment to Southwest Texas State University's English Department.
Ben's teaching career was the centerpiece of his life. He cared about every student and thrived on the companionship of his colleagues and their families, so many of whom became lifelong friends. In the early years, Ben supplemented his SWT gig with summer and evening teaching stints at various community colleges and at Gary Job Corps, and on occasion he taught summer Catechism at old St. John's on the hill when the nuns needed a firm hand with the rebellious older boys. He also sponsored the Sigma Nu fraternity for many years, when no other faculty member would accept the challenge (or responsibility), and supported the Upward Bound program for low-income high school and college students.
Ben was modest about his many accomplishments and talents. He could read a number of languages, including Latin, and play the violin. As a teenager and in the Army, he was an amateur boxer (welterweight), and was also a talented ping pong player and marksman, no doubt from his army days. In 1967, he moved his family to 50 acres and a large, solid German home near Maxwell, Texas, where he lived out his dream of running a family farm while he kept his day job at SWTSU.
Ben and Alida were softies for any stray that came their way, taking in abandoned and unwanted animals of every sort, starting with an old unwanted donkey named Jim that Ben took over caring for in San Marcos in 1965. At times they had 8 or 10 grateful stray, rescue, and hand-me-down dogs on the Maxwell place, every one of which was devoted to Ben, along with Jim, an old cast-off mare, and just about every other form of beast or fowl. Ben and Alida opened their hearth and hearts to several beloved foster children, including infant Tabitha, schoolboy Ronnie Cassell, and teenager Larry Arispe, earning the deep gratitude of case workers for their willingness to receive hard-to-place children desperately in need of a loving respite from their challenging circumstances. Over the years, many other honorary Archers were made at home in times of need. Ben and Alida were splendid, unique parents, with Alida supplying the firm oversight to balance Ben's more laissez faire learn-from-your-mistakes approach. Ben and Alida had a special relationship with each grandchild, especially supporting them in their education and helping them reach for their dreams.
In the 1970's, Ben and several fellow faculty members took over their favorite campus hangout Fat Friar's to save it from closing its doors. Eventually, Ben became the pub's sole proprietor and operated Fat's for many years, providing jobs to desperate students and a place for him and his colleagues to discuss politics and the meaning of life over a pitcher and a fierce game of pong.
After moving to Maxwell, Ben became a major contributor to the fledgling Maxwell Volunteer Fire Department, helping build the first fire station and acquire fire-fighting equipment, racing to brush and barn fires at all hours, and raising funds through the annual MVFD barbecue and raffle at the Maxwell Social Club. Ben was also active in the National Farmers Union and Germania Farm Mutual Insurance, and pitched in every year to help his special friends the late Lilly and Manuel Serna hold Lilly's Christmas Party at the Silver Barn for hundreds of needy families, sometimes arriving on the fire truck as Santa himself. He made many close friends in the Maxwell community.
Ben was raised to be very self-sufficient, and never hired anyone to repair anything without trying to fix it himself first. He was content with an old used truck or a home-made table saw, never gave up on a broken clock or toaster, and seemed to relish perpetually working on the rusty John Deer whose original color could never be determined. He was innately generous with his time and resources, and no one who knew Ben was ever without a place to go for help, advice, or money when all else failed.
Ben is survived by his sons Benjamin Francis Jr. of Wimberley, Jeffrey Scott (and Pamela Marshman) of Austin, Brian Douglas Francis (and Beverly Pairett) of San Marcos, and Craig Steven (and Linda Janney) of Maxwell, by former daughter-in-law Beverly Foster Salina, by grandchildren John Scott Schlee of Waxahatchie, Brian Scott Durham Archer (and Megan) of Wimberley, Luke Maxwell Archer (and Carol) and Jaclyn Rose Archer of Maxwell, and Corinna Marie Archer Kinsman (and Nathan) and Tristan Jeffrey Archer of Austin, and great-grandchildren Brianna and Aiden Archer, Keaton and Kinsley Archer, and Alida and Alcee Archer Alvizo, as well as by devoted friends Paul and Marilee Mayhew and Mary Black. He was predeceased by his parents, wife Alida, brother William, "son" Mack, and grandson-in-law Carlos Alvizo, as well as by his beloved colleagues Eileen O'Meara and Jack Methenia, who were family to Ben, and by his last canine companion Charlie. Special thanks to Julia and Mary and the caring staff at Chepo's café, where Ben was welcomed like a beloved grandfather for breakfast almost every day for his last few years. When Ben was sick, they brought his chorizo tacos and coffee to his home, mostly to make sure he was OK.
Characteristically selfless and committed to education and the University that provided so much to him and his family and community, Ben donated his body to be used in research and teaching at the Forensic Anthropology Center at Texas State University, where his earthly remains are now reunited with Alida's in the Center's permanent collection.
A celebration of the life and legacy of Ben will be held at the Maxwell Social Club in Maxwell, Texas, at 3 pm on Friday, April 27, followed by BBQ and fellowship.