Rev. Dr. Barry Bernard Thiering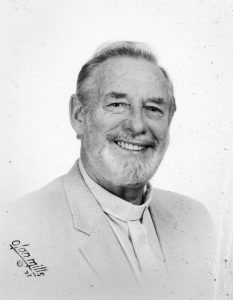 "Weary not in well-doing."
Barry's life was a ministry spanning over 65 years on four continents, which touched the lives and hearts of thousands of people. But most of all, he remained a humble servant of God and of the good in others, especially children. On Sydney beach youth and boys camps as a young Australian sporting and swimming champion, then in four greatly diverse congregations in the '50s, Barry moved on to serve 27 years as Chaplain of Cranbrook School and head of the 150 person staff there for ten years; briefly also at St. Paul's School (Bald Hills) and on the faculty of St. Francis Theological Seminary (QLD), before migrating to the U.S., where he served 9 years at Emmanuel Episcopal Lockhart and St. Elizabeth's Buda, traveled the US for 10 years with Food for the Poor (a large international relief and development organization), and most recently as hospice chaplain in Austin.
As an educator, he helped found several national interfaith and interdisciplinary professional groups, as well as helping to start innovative schools in Australia and the United States with his wife, Dr. Linda Thiering. He helped run the Australian Billy Graham Crusade, won public speaking awards, and wrote 9 books and numerous articles, both practical and academic.
Everywhere he went Barry made friends, believing in the mission of Barnabas (the encourager), for whom he and his father were named, to uplift those he found on his path. For those who never met him, as actor, singer and musician he was sometimes mistaken for being Danny Kaye's double. Barry (seriously) wrote a dissertation on Australian humor on making God relevant to those who better understand the sand and surf than a formal church-going theology. Barry loved his roses, swam laps, and painted avidly till the last.
He is survived by Dr. Linda Thiering and five children- Nerida, Paul, David, Christine and Joshua, and his brother Max of Australia, 4 grandchildren and 1 1/2 great grandchildren.
Memorial contributions may be made to Food for the Poor (www.foodforthepoor.org/revbarry, source code: 104262).
To view and sign the guestbook, visit www.post-register.com/obituaries/Barry-Thiering.