City hosts local authors on Saturday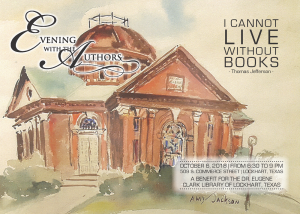 Authors from the Central Texas area will be on hand to sign their books and visit with avid readers Saturday night at Evening with the Authors, a benefit for the Dr. Eugene Clark Library.
It will run from 6:30-9 p.m. in the garden at 509 S. Commerce St.
For reservations, contact evening with the authors@yahoo.com or call 512-559-1135.
Tickets are $30 in advance and $35 at the door.
Visit www.eveningwiththeauthors.com for advance tickets.
Read more about the event in this week's Post-Register.