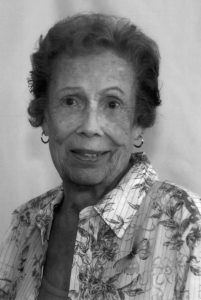 Ethel Earline Eichen, 96, passed away on Wednesday, September 26, 2018 in San Marcos, Texas. She was born on July 9, 1922 to parents Arthur Callahan and Lavada Howard Callahan in Westville, Florida.
In the 1940s she earned her cosmetology license in Florida, and spent the better part of 30 years working in Michigan. After graduation, she met Frank E. Eichen, her husband of 63 years. Earline loved sewing, quilting, square dancing with her husband, and leading Girl Scouts. She and Frank loved to spend their time traveling with their camper. In her 70s, she discovered her love of painting, a true talent that had been left undiscovered. She eventually began to use her skills to make quilts for newborns in Central Texas Medical Center in San Marcos, Texas. She was preceded in death by her loving husband. Earline is survived by her children, Deborrah Nickels (David); Gary Lee Eichen (Silvia); granddaughters, Cinda Keane (John-Henry), Chela Sheets ( Zach), and Jessica Eichen; and 7 great-grandchildren. There will be a memorial service held on October 6, 2018 at 3:00 PM at First United Methodist Church in Martindale, Texas.
Arrangements were made with Porter Loring Mortuary North in San Antonio.
To view and sign the guestbook, visit www.post-register.com/obituaries/Ethel-Earline-Eichen.