Donita Louise Morton Haden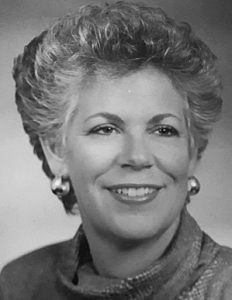 Donita Louise Morton Haden, resident of Lockhart, Texas, passed away on September 26, 2018 after a 27 year battle with Parkinson 's disease.
Donita was born on May 17, 1943. She attended high school in Odessa, Texas where she lived with her parents J.W. (Jake) and Winnifred Morton. She attended North Texas State in Denton, Texas and was a true entrepreneur devoted to her 40+ year career in real estate and construction. Donita was the recipient of the Habitat for Humanity Fuller Life Award in 1999, was honored by the Texas Legislature in 2008, and was the recipient of the Lockhart Chamber of Commerce Spirit Award in 2014 for her service to the community through partnership with Austin Habitat for Humanity. She spearheaded and was a co-founder of the Caldwell County Habitat Chapter. She led and participated in the building of hundreds of homes for deserving families, influencing close to 10,000 lives.
Donita is survived by her husband, Patrick J. Horne, and her sister, Kay Reeves. Donita is also survived by her three children and their spouses, Hoppy and Linda Haden, Jake and Melissa Haden, and Holly Sparkman and Ron Faulstich. Donita was a role model for her grandsons: Zachary, Daniel, Blake, Dan, Joshua, and Cody, and granddaughters: Kelsi, Sandy, Sarah S, Sarah P, and Demi. She is also survived by her six great-grandchildren, and many nieces, nephews, and dear friends.
The life of Donita Haden is the best example of strength and determination. She had a perpetual energy, lived a full life, never hesitated to share her opinion, and made everyone around her a better person. She was truly one of a kind and will be greatly missed by all who knew her.
In her final gesture of generosity, Donita gave her physical body to Life Legacy Foundation to further medical research for diseases like Parkinson's. As a result, her formal memorial service will be delayed for several months until her remains return home (future announcement will be made).
Memorial donations may be made to: Michael J. Fox Foundation for Parkinson's Research, Grand Central Station, P.O. Box 4777, New York, NY 10163, https://www.michaeljfox.org or Austin Habitat for Humanity, 500 W. Ben White Blvd., Austin, TX 78704 www.austinhabitat.org/make-a-gift (please indicate Caldwell County Chapter).
To view and sign the guestbook, visit www.post-register.com/obituaries/Donita-Louise-Morton-Haden.