Clarence Emmett Simon Jr.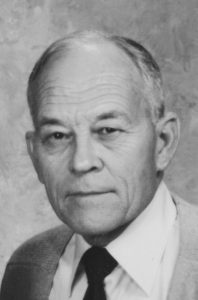 Our beloved father and grandfather passed away peacefully, Monday, April 30, 2018, in Lockhart, Texas. Most will remember him as "Junior", a man who loved the Lord and his family, and the man behind the counter at the U.S. Post Office in Lockhart who kept everyone in check.
Junior was born August 4, 1925, in Luling, Texas, to Clarence Emmett Simon Sr. and Minnie Catherine Golson Simon. Junior proudly served the United States through his tour of duty in the U.S. Navy, July 1943 – February 1946, as a signalman on the U.S.S. Lackawonna. During World War II, he participated in the Pacific Ocean theatre. Before the war, Junior worked at the Baker Theatre in Lockhart. One of his favorite jobs there was serving the popcorn. After the war, he was employed by the Texas Unemployment Commission in Austin for a short period of time. Junior spent the next ten years working for Magnolia Petroleum Company. He also worked for Medina Base Atomic Energy Commission. In 1963, Junior was employed at the U. S. Postal Office in Lockhart for forty years. He has been a member of the First Lockhart Baptist Church since 1935. As a young man, he enjoyed teaching the Jr. High Boy's Sunday School class, serving as the Jr. High Department Superintendent and singing in the church choir. He also served as chairman of the House and Grounds Committee for the First Lockhart Baptist Church. He was also a member of the American Legion and VFW. He was devoted to his family and enjoyed fishing and hunting. Junior spent endless hours keeping an immaculate yard which was enjoyed and admired by many friends and neighbors. He was a loving Christian, husband, father and grandfather. Junior was known as "Paps" to his grandchildren and his great grandchildren who were his pride and joy.
Junior is preceded in death by his parents, his beloved wife, Frances Simon, his grandson, Mark Withers, his brother, Ted Simon & sister-in-law, Dorothy Simon, his brother, Travis Simon, his sister, Lucille Chustz & brother-in-law, Erwin Chustz, sister, Nelda Laws & brother-in-law, John Laws, sister, Juanita Vick & brother-in-law, Billy Vick, his brother & sister-in-law, Lonnie & Lou Pittman, two nephews and one niece. He is survived by his loving daughter, Kathy Withers of Lockhart, granddaughter, Kari Withers of Luling, granddaughter-in-law, Brandi Withers of Buda, great grandchildren, Justin Fairchild, Payton Fairchild and Brenna Withers. He is also survived by sister-in-law, Rae Simon, brother & sister-in-law, Mike & Kay Nelson of Dallas as well as numerous nieces and nephews.
Visitation with the family will be at McCurdy Funeral Home on Thursday, May 3, 2018 from 5:00 p.m. – 6:30 p.m. A celebration of Junior's life will commence at First Lockhart Baptist Church on Friday, May 4, 2018 at 10:00 a.m. with the Rev. Gary Rodgers officiating. Interment will be at Memory Lawn Cemetery, Martindale, Texas. Memorial contributions may be given to First Lockhart Baptist Church, P.O. Box 779, Lockhart, Texas 78644. Pallbearers are Brad Simon, Chip Pittman, Billy Fogle, Tim Counce, Robert Natal, Kenneth Bujnoch, Duke Fairchild, Justin Fairchild, Payton Fairchild and Todd Rougeou. Honorary Pallbearers are Mel Lancaster, Ray Crites, John Barger, Don Henderson, Bill Schroeder, Austin Pittman and Anthony Rodriguez.
The family would like to express their appreciation for the loving care that was provided by Cheva Zamora, Dr. Arjun Mohandas, Seton Edgar B. Davis Hospital of Luling, Texas, Chisholm Trail Nursing Home, and Heart to Heart Hospice.