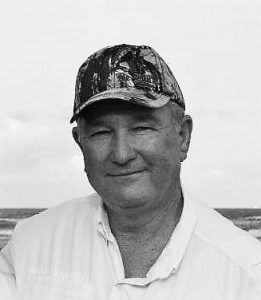 Jerry Wayne Kidd, 67, of Luling went to his Lord and Savior on Sunday, April 29, 2018. Jerry was born August 9, 1950 in Gonzales to Braxton Roy Kidd and Sytha Kathaleene Hotz Kidd. He married the love of his life, Pamela Sue Miller on October 19, 1973 in Luling, Texas. Jerry was a member of and had served as co-pastor of the Luling Cowboy Bible Church. Jerry had been a very active leader in the Luling community. He was a founding member and past-president for nine years of the Luling Area Oil Museum Association and was instrumental in getting the Luling Oil Museum up and running. He helped initiate the Roughneck Cook-off which is the museum's premier fund raising event that has been going on for 29 years. He volunteered and coordinated several Night in Old Luling festivals that funded the Oil Museum mission. Jerry also served 17 years on the Luling Watermelon Thump Association Board of Directors, serving as General Chairman of that organization in 1995 and 1996. Jerry was a driving force in the formation of the Luling Oil Producers and Royalty Owners (LOPRO) which brought area oil producers and mineral owners together to lobby in favor of issues affecting the oil and gas industry in the area. The Luling Chamber of Commerce bestowed Jerry with the Member of the Year Award in 1989. Jerry was always there to lend a hand or piece of equipment for numerous fundraisers and community projects over the years. He had served on the cooking team as well as head cook for "Walk to Emmaus" retreats through the years.
Jerry graduated from Luling High School in 1969. His father had founded B.R. Kidd Trucking in Luling in 1967 and Jerry went to work for his father shortly after high school. After years of working side by side with his dad and eventually his brother Ronnie too, Jerry took over the business in 2004. Jerry closed the business in 2014 as illnesses prevented him from operating the business as effectively and efficiently as he expected of himself. Kidd Trucking had been a part of the Luling skyline for 47 years. Jerry was a good businessman and excellent boss. He wanted things done right and lent his knowledge in teaching others things he had learned through his dad and years of on the job experience.
Jerry loved fishing and hunting though he loved being a "camp cook" more than hunting later in his life. He loved fishing the coastal waters of the Gulf and freshwater fishing in Choke Canyon Lake and local H5 Lake were always some of his favorite times. Clearly the best moments in Jerry's life were found when he was surrounded by family and friends. He loved his church and church family and absolutely cherished time spent with those he loved. He did everything he could to attend all the functions and extra-curricular activities of his daughters, Monica and Amanda and his grandchildren's too. He did the same for his little brother Ronnie who is fourteen years his junior. Jerry was a very loving, compassionate and gracious man. He saw the good in everyone and he served his Lord with all his might. Even while he lay ill in hospital beds his faith and his willingness to share his faith, Jerry brought several people to the Lord. It was love that kept driving Jerry though his illnesses. It was his love and faith in God, his love and faith in family and his love and faith in his adoring wife Pam. Jerry completely loved Pam, completely as in absolutely, wholly and entirely. He often wrote mushy lovey cards to Pam and said mushy lovey things to her in an effort to express his love and devotion, a love that certainly burns ever brightly as Jerry walks in paradise.
Certainly the world is less without Jerry Kidd, but because he lived, it is a far better world. Jerry Wayne Kidd is survived by his loving family, wife of 44 years, Pam Kidd, daughters, Monica Knox (Keith), Amanda Kidd, an honorary daughter Annie Woods Colvin, brother, Ronnie Kidd, a special brother who literally gave Jerry life with the donation of his stem cells, Stephen Harris, grandchildren, Lexi Knox, Kaleb Knox, Tristan Hester, Devin Hester, Kendall Cox, a very special niece and great-nephew, Raven Robbins and Rhett Zumwalt, nephew, Kallen Kidd, sisters-in-law, Melanie Robbins and Debbie Hees, the Patterson kids who called him Aunt Jerry and numerous friends and extended family who called him Paw Paw and his beloved, faithful and protective Pomeranian, Bella. Jerry was preceded in death by his parents and his son, Brandon Braxton Kidd.
The family will receive friends from 6 to 8 p.m. Wednesday, May 2, 2018 in O'Bannon Funeral Home. Funeral services will be held at 3 p.m. Thursday, May 3, 2018 in the Luling Cowboy Bible Church with Pastor Randolph Robbins and Pastor Keith Knox officiating. Interment will follow in Mineral Springs Cemetery. Pallbearers: Kaleb Knox, Devin Hester, Tristan Hester, Keith Knox, Allen Knox, Kurt Knox, Johnie Halliburton, and Mike Colvin. Honorary pallbearers: Kallen Kidd, Arthur Knox, Ronnie Kidd, Stephen Harris, Leonard Cox, Zayn Whitaker, Larry Bolen, Randall McDonald, Joe Cardenas, Aaron Hees, Roy Cantrell and all the other Luling oil field trash, as Jerry wanted it stated. Memorials may be made to the Luling Cowboy Bible Church. Services are under the care and direction of O'Bannon Funeral Home.
To view and sign the guestbook, visit www.post-register.com/obituaries/Jerry-Kidd.