Major Karl Eugene Schneider, USAF, Retired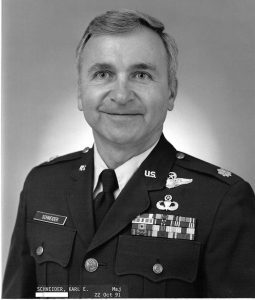 Major Karl Eugene Schneider, USAF, Retired
Funeral services for Maj. Karl Schneider, USAF, Ret., 72, of Temple will be held at 2 PM, Saturday, April 28, at Harper-Talasek Funeral Home with Rev. Jack Schneider, Karl's cousin, officiating and Kristopher Schneider, Karl's nephew, assisting.
Visitation will be Saturday at 1:00 preceding the funeral. Burial will be at Arlington National Cemetery at a later date.
Maj. Schneider passed away on Monday, April 23, 2018, surrounded by family and friends.
Karl, was born on September 15, 1945, to the late Norman F. and Mary "Jeannette" (Craddock) Schneider, Sr. in Pensacola, Florida. His family settled in Bartlesville, Oklahoma, after his father separated from the Navy. He graduated from College High School in 1963 and attended Oklahoma State University prior to enlisting in the Army where he trained with the Army Rangers. After he was honorably discharged from the Army, he returned to OSU to complete his Bachelor's degree in Business. He was then commissioned as an officer in the United States Air Force where he graduated from flight school and was assigned as a Weapons Systems Officer and navigator flying the F-4 in California and Iceland. He went on to serve, among other duties, as the coach of the Wings of Blue USAF Parachute Team at the Air Force Academy in Colorado Springs, Colorado, the Jump Instructor for the Army Rangers based out of Hunter Army Airfield in Savannah, Georgia, a Flight Incident Investigator, and an RF-4 navigator prior to his retirement at the rank of Major in 1993. He served his last assignment at Bergstrom Air Force Base in Austin. During his time in the military Karl was awarded the Meritorious Service Medal twice, the USAF Commendation Medal three times, The USAF Outstanding Unit Medal 4 times, and the Joint Service Achievement and Meritorious Unit Awards among others.
After his retirement, Karl settled in Dale, Texas, outside of Lockhart, where he loved working on cars, flying his open cockpit Baby Ace and following NASCAR. He was very honored to be part of the Plane Talk crew at the Lockhart airport, and the friendships gained there were deeply treasured.
Karl traveled the world, was an award-winning skydiver, a deep-sea diver, an accomplished pilot of planes and gyrocopters, and a photographer. However, Karl's true life-long loves were flying and his family, especially his daughter Heidi and her family and Terice, his wife of the last 9 years, and her family.
Karl is survived by his wife of 9 years, Terice Talasek (Ahr) Schneider of Temple, Texas; daughter Heidi (Schneider) Craig and husband, Steven, of Raleigh, North Carolina; Terice's son Elliot Ahr and wife, Carrie, of Temple, Texas; Terice's daughter Adrienne Ahr of Denton, Texas; three brothers, Norman "Rick" Schneider, Jr. of Garland, Texas, Glenn Schneider and wife, Debbie, of Parachute, Colorado and Mark Schneider of Stillwater, Oklahoma; 6 grandchildren and numerous nieces and nephews and their children.
The family would like to thank Altus Hospice, Dr. Phillip Woodall, MD, Autumn Leaves of Georgetown – especially Debra Thurber, Stephanie Trejo of Scott & White Neurology Department, and Tony Jeter of Tender Mercies. All offered their loving assistance with Karl's care over the last year.
In lieu of flowers, memorials may be made to Heifer Project International at www.heifer.org or to the charity of your choice.
To view and sign the guestbook, visit www.post-register.com/obituaries/Karl-Schneider.