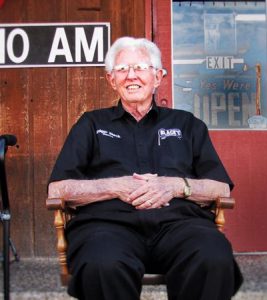 Edgar Clarence Black, Jr., 91, of Lockhart passed away June 2, 2017 at his home surrounded by family and friends.
Edgar was born on Nov. 3, 1925 in Delhi, Texas to Edgar Black, Sr. and Myrtle Baldwin Black

. The family moved to Lockhart in 1932 to open a grocery store and meat market that came to be known as Black"s Barbecue. After graduating from Lockhart High School in 1943, Edgar attended Texas A&M in College Station. He soon volunteered for the Navy and served four years in the United States Navy during World War II.
After the war he returned to Lockhart to marry the love of his life, Norma Jean Nolte on June 20, 1948. The couple moved to College Station to complete his college degree in accounting. After graduation Edgar turned down a job with Exxon in Houston to return and manage the family businesses in Lockhart.
For 60 years Edgar and Norma Jean successfully grew the family businesses, Black"s Barbecue, Northside Grocery and Market and the Lockhart Sausage Company.
His Lockhart Style Hot Sausage was served to President Johnson at the Smithsonian Institute in Washington, D.C. Today, Black"s Barbecue is entering its 85th year with five generations of family members working in the business.
During his sixty years of business, Edgar and Norma Jean, were very proud to have been the first business in Lockhart to integrate their restaurant and hire minority employees. They believed that everyone deserved a chance regardless of their race. He was one of the leaders in the integration of the Lockhart Schools, Little League, and Lockhart State Park. He was most proud to give someone their first job and then see them go off to college and have a successful career.
Edgar was very active in the Lockhart community serving as president of the Chamber and Kiwanis Club, Chairman of the First United Methodist Church Administrative Board and coach and officer of the Lockhart Little League.
He was one of the founders of the Lockhart Homecoming which developed into the current day Chisholm Trail RoundUp.
Edgar is survived by his wife of 69 years, Norma Jean Black, of Lockhart; two children, Kent Black and his wife, Candice Black, of Austin, and Terry Black and his wife, Patti Black, of Lockhart; sister, Jenny May LaPoint; six grandchildren: Eric Lenderman, Kara Anthony and her husband, Adam, Barrett Black and wife, Becky, Christina Black, Michael Black and Mark Black; great-grandchilren: Jake Wallace Lenderman, Katelyn Anne Lenderman, Aidan Clarence Anthony, Cason Roy Anthony, Nolan Jean Anthony, and Barrett and Becky are expecting great-grandchild number six.
He was predeceased by his sister, Francis Livengood and stepmother, Scottie Black.
The family expresses its thanks and gratitude to the friends and care-givers for their loving support. We are especially grateful to Stephanie, Betsy, Patricia and Angela for their love and support.
Services were scheduled on Tuesday, June 6 at 3 p.m. at First United Methodist Church, 313 W. San Antonio St., in Lockhart followed by a catered Black"s BBQ meal at the church. A burial will take place at the Lockhart Cemetery. Donations or Memorials may be made to the First Lockhart Methodist Church or the American Heart Association.
Arrangements with McCurdy Funeral Home, 105 E. Pecan St., Lockhart, Texas 78644, (512) 398-4791.