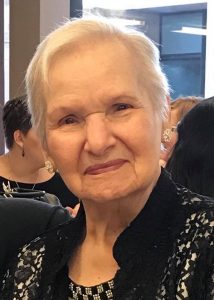 Gloria June Horton passed away peacefully on Sunday, January 14, 2018 in Luling, TX. She was born to Hugh Walter and Edith Ellen (McNabb) Guernsey in Chippewa Falls, WI on July 30, 1928.
Gloria married her childhood sweetheart and the love of her life, Wiley James Horton, on April 28, 1945 in Richmond, TX. They were married for almost 69 years when he preceded her in death on March 3, 2014. Their marriage was blessed with seven children. She managed a home of love and security where all were welcomed. She loved the Lord and taught numerous women's bible study groups. Gloria and Wiley were also involved in Lay Renewal and jail ministries. Gloria found great contentment in artwork and writing poetry.
Gloria made the decision to continue her education after having her children. She received a Bachelor of Science degree in 1978 and a Master of Education in 1984. Both degrees were awarded from the University of Houston.
She is survived by her seven children; four sons, Wiley James Horton and wife, Sue of Canyon Lake, TX, Walter Dean Horton and wife, Margaret of Lakeway, TX, Robert Charles (Bobby) and wife, Leslie of Lake Geneva, WI, Kyle A. Horton and wife, Angela of Lavaca, AR; three daughters, Phyllis Lynn Stout of Denton, TX, Susan Ann Blackwelder and husband, Tim of Missions Hills, CA, Gayla June Brignon and husband, John of Vernon Hills, IL; twenty-two grandchildren, nineteen great grandchildren, three great-great grandchildren; and many friends, nieces, nephews and her beloved pet of fifteen years, Milo, who gave her love, comfort and smiles.
Gloria was preceded in death by her parents, Hugh and Edith Guernsey; her husband, Wiley; son-in-law, Doyce Lee Stout; grandson, Courtney Shane Horton; brother, James Franklin Guernsey; three sisters, Phyllis Kathleen Guernsey, Edna Ellen Kirkland, and Margaret Ann Smith; and her fur baby, Mia who gave her 17 years of love and pleasure.
The family will receive friends on Saturday, January 20, 2018, from 9:00 -10:00AM at Waltrip Funeral Home in Houston, TX. A funeral service will begin at 10:00AM officiated by her son, Kyle Horton. Interment will follow at Memorial Oaks Cemetery in Houston, TX.
The family wishes to thank Drs. Arjun and Renu Monhandas , Dr. Benyam Alemu and the exceptional nursing staff at Seton Edgar B. Davis in Luling, TX for the tender love and care that you provided to our mother and grandmother. She loved each one of you like family. We deeply appreciate your kindness, compassion and support.
To view and sign the guestbook, visit www.post-register.com/obituaries/gloria-horton.