Edna Merle (McMullen) Patton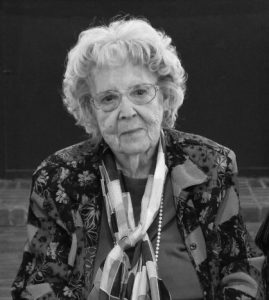 Edna Merle Patton passed away on September 1, at the age of 93. She was born on November 28, 1924 in Delhi, TX to Turner McMullen and Myrtie Cox McMullen. She was united in marriage to Allen Patton on May 26, 1943 in Lockhart, TX. She attended grade school in Delhi then went on to graduate from Lockhart High School in 1942.
Edna worked for 15 years at Walker Bros. in Luling and then for 15 years at Dismukes in Luling. After she retired, she enjoyed cooking, gardening and spending her time playing with her great-grandsons. She loved her family and was always looking out for them, especially her grandson and great-grandsons. She seldom thought of herself rather making sure everyone else was okay and she was never one to complain.
Edna was a member of Central Baptist church and attended for many years. She loved having family meals after church on Sunday.
She was preceded in death by her husband of 62 years, Allen Patton, her parents, and her brother, Clifton McMullen of Emory, TX.
Edna is survived by her daughter, Betty Motal of Lockhart, and son Douglas Patton of Luling, her grandson, Kenneth Zumwalt and wife Jennifer of Prairie Lea, and two great-grandsons, Jarred Zumwalt and Wesley Zumwalt.
Her service was held on Monday, September 3rd at O'Bannon Funeral Home with graveside service at Lockhart City Cemetery.
Pallbearers were Kenneth Zumwalt, Jarred Zumwalt, Wesley Zumwalt, James Tullous, Carl Patton and Larry Patton.
The family would especially like to thank her caregivers over the years.
To view and sign the guestbook, visit www.post-register.com/obituaries/Edna-Merle-McMullen-Patton.