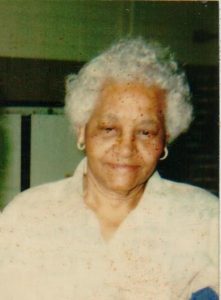 Eula Mae Myers Branch was born on April 18, 1926 to Willie F. Myers, Sr. and Edna Shannon Myers in Lockhart.
Eula Mae accepted Christ at a young age. She was a lifelong member of First Baptist Church. She attended school in Caldwell County during the segregation.
Edward B. Branch and Eula Mae Myers were married and to this union 5 children were born; Evelyn McIntosh, Travis Branch, Janice Branch, Betty Raye Branch and JoAnn Branch.
Eula Mae lived a full and happy life. She was a strong independent woman who was a pillar of strength. Eula Mae was a homemaker and cared for several children within the community once she went out in to the workforce. In her free time, she loved to play bid wiz, basketball in the yard with her children, talking on the phone with friends and relatives, watching wrestling which she would watch it for hours whether it be in English or Spanish. Her most favorite past time was driving thru rural Caldwell County taking in the scenery and picking pecans.
Eula Mae leaves the following to mourn her absence: son, Travis Branch (Debbie) of Lockhart; daughter, Janice M. Branch of Buda; 8 grandchildren, 14 great grandchildren (1 unborn) and 7 great great   grandchildren (1 unborn).
Waiting for Eula Mae at the gates of Heaven on January 14, 2018 were her parents; brothers, Willie Myers, Jr. and R.C. Myers; daughters, JoAnn Branch, Evelyn McIntosh and Betty Raye Branch and 1 grandchild, Netfa S. Branch.
The Branch family will receive friends on Friday, January 26, 2018 from 5-7 p.m. at McCurdy Funeral Home. A home going service will begin at 11 a.m. on Saturday, January 27 at McCurdy Funeral Home with the burial to follow at Hooks cemetery.
To view and sign the guestbook, visit https://post-register.com/obituaries/eula-mae-branch