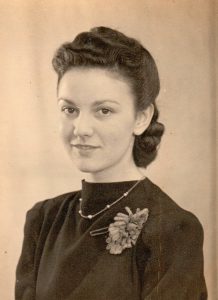 Dorothy E. Warner Mace passed away on January 20, 2018 in Lockhart at the age 94. She was born to Edith Savory and Edward Warner in Whitney, England in 1924.
As a young girl, Dorothy loved riding her bicycle around the country side and swimming in the River Windrush. She was a member of Girl Guide and had a beloved dog named Bubbles.
She met her husband, Robert D. Mace at a military functioned dance and married March 3, 1945 just after the war. To this union 3 children were born; Edward, Robert and Diane. Dorothy arrived in the United States in March of 1947.
In 1995, after the passing of her husband in 1994, Dorothy moved to Lockhart to be with her son. She was a good cook and loved to read. Dorothy was affectionally known to her great children as "Great Mom Mom."
She is preceded in death by her husband, newborn son, Edward, and her brother, Harold Warner.
Left behind to cherish her memory is her son Robert. J. Mace and his wife Linda; daughter, Diane Patricia Mace; sister-in-law, Christine Warner; 3 grandchildren: Jeffery Mace and his wife Erin, Anne Mace and her husband Chris and Stephen Mace and his wife Kristen, and 6 great grandchildren: Sydney, Macy, Molly, Asher, Hailey and Sean.
Dorothy will be laid to rest next to her husband on Thursday, January 25, 2018 at La Grange Cemetery West at 11 a.m. with Brother Gary Rodgers officiating.
Arrangements under the care and guidance of McCurdy Funeral Home. 105 E Pecan St. Lockhart, TX 78644
To view and sign the guestbook, visit https://post-register.com/obituaries/Dorothy-mace