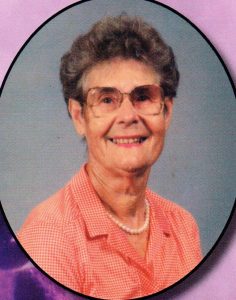 Born April 14, 1920, Evelyn was the third oldest child of Otto and Elsa (Kirchoff) Graef. She grew up on a farm in Niederwald with her parents and nine siblings. No stranger to hard work, Evelyn spent her early years picking cotton, and tending to her younger siblings. She often said she could take care of the house, cook a meal and tend to her siblings before she was 10 years old!
She married Bruno Buehring in March of 1938 at the Trinity United Church of Christ in Niederwald. They made their home on the Buehring's "home place" where they farmed and raised their children, Billy and Doris.
Evelyn loved spending time with her family and friends. In their retirement years, Bruno and Evelyn would often host domino game nights and weekends of fishing on their farm. Many, many, laughs were shared, and good memories were made.
After Bruno's passing in 1979, Evelyn occupied her time by volunteering at church, helping family and friends, cross stitching, bowling, checking on her cow herd and spoiling her grandkids! Known as Oma to the grandkids, she was a woman with unlimited energy: It wasn't uncommon for her to load up her
1967 Plymouth Satellite with fishing poles, bait, and four eager kids and head to a good fishing spot for the day.
Even as the grandkids got older they continued to spend time at Oma's house, enjoying the best home cooked meals (sweet rice was the best!) or just sitting on the patio with a cold Dr. Pepper. Visiting with Oma and listening to stories about the "old days" was a real treat.
Evelyn lived a simple yet rewarding life. Her knowledge of gardening, canning, cooking, sewing and taking care of animals (she bottle fed her share of orphan calves!) has been passed down to the following generations. We have been blessed to learn from her.
Evelyn is preceded in death by her parents, husband, Bruno, son, Billy, brothers, Leonard, Helmuth, Alton and Ralph; sisters, Linda Loep and Frances Bierstedt. She is survived by daughter Doris Roach (Jim), sisters Marie Schnieder, Dorothy Schnieder and sister-in-law Margie Graef; four grandchildren, eight great-grandchildren and many nieces, nephews and wonderful friends.
Family received friends on Sunday, January 14, 2018 from 5:30 pm to 7:00 pm at McCurdy Funeral Home. Services were held Monday, January 15, 2018 at 11:00 pm, at McCurdy Funeral Home. Interment followed at Lockhart City Cemetery. Serving as pallbearers were Grey Roach, Kelly Buehring, Brian Dailey, Jason Buehring, Clayton Buehring and Weston Dailey
Arrangements under the care and guidance of McCurdy Funeral Home, 105 E. Pecan, Lockhart, Texas.
To view and sign the guestbook, visit www.post-register.com/obituaries/evelyn-buehring.