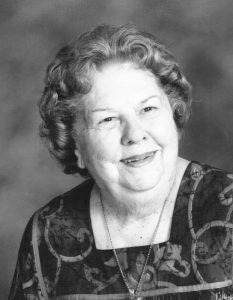 Fay Armstrong passed away and joined her Eternal Father on Saturday, December 9, 2017 at her home in Lockhart, Texas. Fay was born on January 31, 1920 in Palestine, Texas. She was an extremely talented artist and engaged in many hobbies throughout her lifetime. In her early years, she was passionate about all things beauty and embarked on a career as a remarkable stylist in New York. She loved the arts, had a creative mind, and eye for detail which made her paintings, crochet, and other work simply gorgeous. She was also privileged to collaborate with A. D. Greer and Dalhart Windberg during her time as an art student.
Fay was a member of the First United Methodist Church of Lockhart and a member of the Daughters of the American Revolution and a member of the Eastern Star. She was a loyal and patriotic friend who loved her country and her heritage.
Fay was preceded in death by her husband, Robert C. Armstrong; daughter, Doris Lynn Armstrong; siblings, Doris Goodman, Zell Goodman, and Graydon Goodman; and grandson, Robert Ryan Armstrong.
She is survived by: three daughters, Linda Swayze and husband David, Pamela Fritsch and husband John Robert, and Palma Fehr and her husband Kent; four grandchildren, Tamara A. Patrick and husband John, Brandon Armstrong Wilson and wife Elizabeth, Dusty Armstrong Swayze, and Robert Blake Fehr; and five great-grandchildren, Gage, Zane, Austin and Aiden Patrick, and Haley Wilson.
Serving as pallbearers will be Brandon Armstrong Wilson, Dusty Armstrong Swayze, Robert Blake Fehr, John Patrick, Gage Patrick, John Robert Fritsch Jr and Bruce Collier.
A Funeral Service will be held at Eeds Funeral Home on Saturday, December 16, 2017 at 1:00 p.m.. Burial will follow at the family plot in Lockhart City Cemetery.
Arrangements with Eeds Funeral Home, 408 S. Main St., Lockhart, Tx 78644 (512) 398-2343.
To view and sign the guestbook, visit www.post-register.com/obituaries/fay-armstrong.