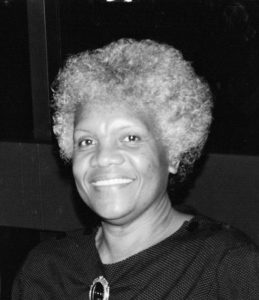 Dorothy Jean Greenwood was born in Dale, Caldwell County, Texas. She was the daughter of Bernice and Elzie Thompson. She accepted Christ in her youth and was an active worker in the Dale United Methodist Church. Later, she became a member of the Pentecostal Lighthouse Church. Upon the death of the pastor and the consequent death of a second pastor who travelled to the church, Dorothy united with Promised Land Church, Austin, Texas. Dorothy was a graduate of Carver High School and was employed by Tracor for many years.
To the Holy Matrimony of Dorothy and Royce Ellison, they became the proud parents of four children. One child, Sharron L. Washington, preceded her parents in death. The other siblings are: Cathy Ellison, Patricia Davis and Royce Ellison, Jr. (Sabrina). Later, Dorothy married Arthur L. Greenwood, and he also preceded her in death.
Dorothy was an admirer and collector of antiques to include furniture, ceramics and jewelry. Also, she enjoyed finding treasures at garage sales. With affection Dorothy is remembered as "The Avon Lady".
Dorothy's father, mother, two sisters, (Berma Ross and Hazel Brite) and brother (William Thompson) also preceded her in death.
She leaves to cherish her sweet and precious memories: her brother, Eddie Lee Pinchback, and her three children. Also seven grandchildren: Derrick, Detra, Datron, Carla, Duane, Erik, and Chris; four great-grandchildren: Essence, Akashia, D'Montre, and Treyon
Arrangements with Eeds Funeral Home, 408 S. Main St., Lockhart, Tx 78644 (512) 398-2343.
To view and sign the guestbook, visit www.post-register.com/obituaries/dorothy-greenwood.