FINAL RUNOFF RESULTS: Change of the guard at county judge, Pct. 1 Caldwell County commissioner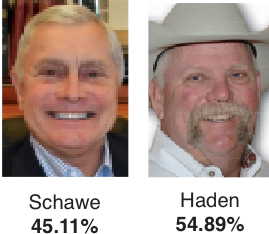 By Miles Smith
LPR Editor
Though the November general election is still months away, one can safely say there will be new faces on the Caldwell County Commissioners Court on inauguration day.
Riding off into the sunset will be County Judge Ken Schawe and Pct. 1 Commissioner Terry Wright, two officials who were each defeated by challengers in Tuesday's Republican primary runoff election.
According to unofficial grand totals, Hoppy Haden won the Republican nomination for Caldwell County Judge, defeating the incumbent Schawe 859-706, good enough for 54.89 percent of the vote. Haden will face Democratic nominee Alfredo Munoz in the general election in November.
Wright, who was appointed by Schawe last year after Haden stepped down to run for county judge, lost the nomination to challenger B.J. Westmoreland, a Class of 2005 Texas A&M graduate who won the runoff 367-337, good enough for 52.13 percent of the vote. Westmoreland will face Democratic challenger Ida Reyna-Magallanez in the general election.
In the Republican primary runoff for Third Court of Appeals, Place 6, Donna Davidson defeated Mike Toth 765-674, good enough for 53.16 percent of the vote.
In the race for U.S. Representative District 27, a special election to determine who will succeed former U.S. Rep. Blake Farenthold, who officially resigned last month, Michael Cloud defeated Bech Bruun 7,477-5,311, or 58.46 percent of the vote. Eric Holguin defeated Raul Barrera on the Democratic side 3,610-2663, garnering 57.54 percent of the vote.
Also on the Democratic side, Lupe Valdez will become the second female candidate to face Gov. Greg Abbott in consecutive gubernatorial elections after edging Andrew White in the runoff. Valdez earned 227,141 votes, or 53.2 percent, to 200,205, or 46.8 percent for White.