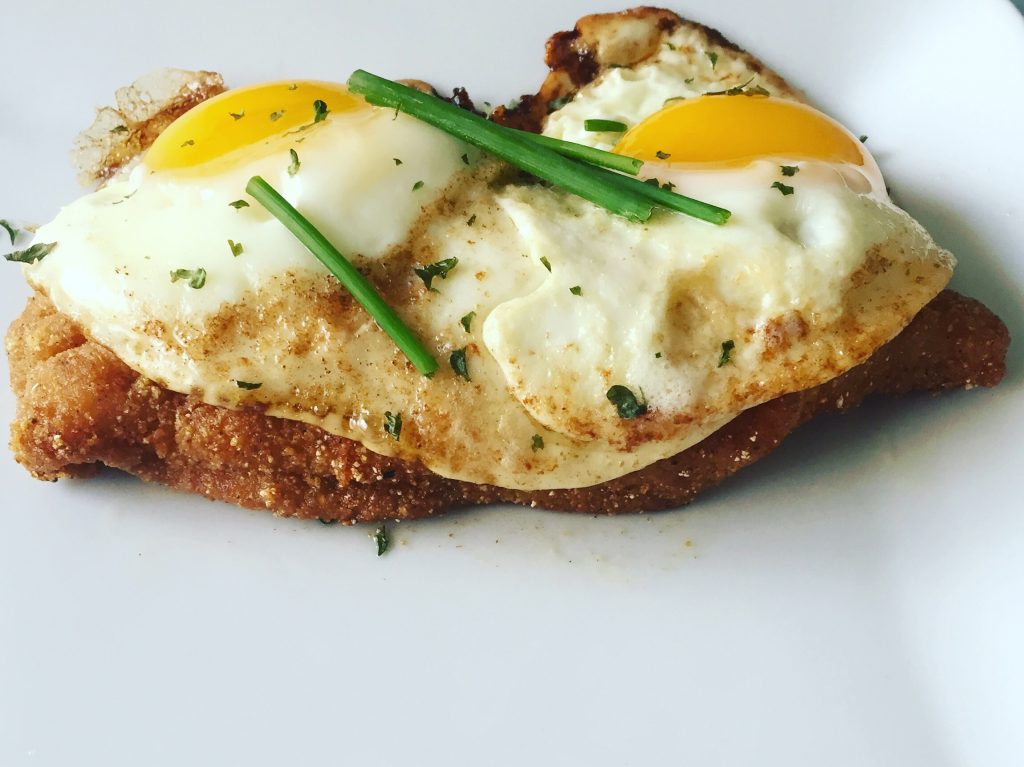 So I was talking to a friend about the Master's Golf tournament in Augusta, Georgia. We cater a hospitality tent there every year and have done so for the past decade. He knows that I grew up an hour away. He asked me what was some of my 'not so common' favourite Southern dishes. I told him it was my affinity for a fish version of 'chicken fried steak & eggs' like we serve in the Bistro but it was made with Southern fried catfish instead.
The catfish is marinated in spices & buttermilk overnight and breaded with flour & cornmeal breading. Deep fried to be GB&D (a professional culinary acronym that means 'Golden Brown and Delicious') and served with eggs your way. I may have the eggs sunny side up or over easy but it's a 50/50 chance that I'll have eggs scrambled with pimento cheese (homemade). Both served with Louisiana hot sauce or tabasco…I, now, prefer the Belizean habañero hot sauce.
So I thought we would do something that is probably not super well known but delicious.
Ingredients:
2 boneless, skinless catfish filets (channel & flathead are milder and better tasting in my experience)
4 cups Oil to fry
Eggs
Pimento cheese
Green onions or chives cut an inch or so wide (batons)
Butter
All purpose flour
finely ground cornmeal
ground cayenne pepper
dried thyme
ground black pepper
fresh minced garlic to taste
1 minced small yellow onion
Smoked paprika
Marinade ingredients for the catfish:
2 cups buttermilk
1 tablespoon smoked paprika
Pinch cayenne (powdered) or to taste
1minced small yellow onion
4 cloves minced garlic
1 tablespoon black pepper
¼ teaspoon dried thyme
4 egg whites
salt
blend or whisk until smooth
THE DREDGE:
Mix of 2 cups all purpose flour, 1 cup yellow cornmeal seasoned with salt, a lot (2 tablespoons) of ground black pepper, salt to taste & smoked paprika.
PROCEDURE:
* Marinade the catfish filets overnight in the buttermilk mixture.
NEXT DAY:
* Take the catfish out of the marinade and shake off the excess marinade and dredge the catfish in the corn meal/flour. Be sure to be pressing the dredging mix into the fish. Shake off the excess flour/cornmeal and put on a plate and put in the fridge (this helps the crust set).
* Start heating up the oil to 350 degrees Fahrenheit (yes, you need to be exact for a perfect result). I use a candy thermometer at home.
* Deep fry the breaded catfish until it floats and is GB&D. Keep warm.
* Cook the eggs the way you want. Top with batons of chives or green onions.
* If you want to scramble eggs version then scramble 3 eggs in 2 tablespoons butter, season with salt & pepper then finish by folding in a heaping tablespoon of pimento cheese. Top with chives/green onions.
To plate top the breaded catfish with the eggs.
Enjoy this simple but surprisingly fancy brunch meal.