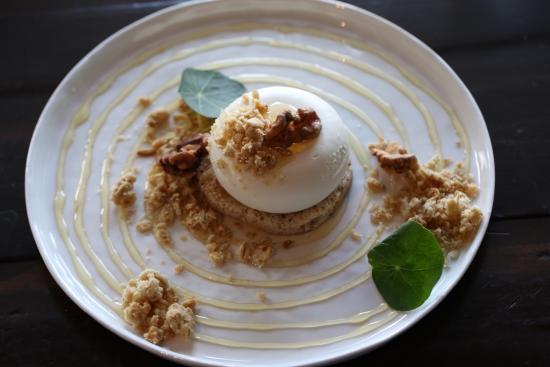 I was thinking about a great unsalted cheese I would enjoy in Catalonia region of Spain when I was in Barcelona. This is a version that's not only a super easy dessert but one is also super-sophisticated and never fails to impress. It may even save the day.
Mato is a whole milk cheese from Catalonia in Spain and is served with honey & nuts. The dish is call Mel I Mato.
We will make a deconstructed version of Mel I Mato.
Ingredients:
'cheesecake' filling:
¼ pound softened cream cheese
¼ pound smooth ricotta or mascarpone cheese
zest of 1/6 orange
a little less than ½ cup of granulated sugar
1/4 teaspoon of orange blossom water
1/4 teaspoon vanilla
Graham cracker crumbs:
Moisten ½ cup of Graham cracker crumb with ½ cup of melted butter with ½ cup of granulated sugar.
Toast in a 350-degree F oven for 10 minutes or until slightly darker. Do not overcook. Let cool.
Local Honey: thin slightly with water
Walnut Garnish:
Lightly toast walnuts in a 350-degree F oven for 5 min and sprinkle powder sugar to coat while still hot and set aside to cool.
Plating:
put everything in the 'cheesecake' mixture in a stand mixer or whisk by hand until well blended. Oil some tall-ish ring molds & pack the cheese mixture inside. Cover with plastic wrap so no crust forms and put in the fridge until time for dessert or at least an hour. You can make an individual dessert or a bigger dessert depending on what size ring mold you opt to use.
On the center of a plate put your 'cheesecake' in the ring mold. Carefully remove the mold. Top with the lightly candied walnuts. Sprinkle the Graham cracker crumble around and drizzle with the local honey.
Enjoy this dessert with honey with your honey.