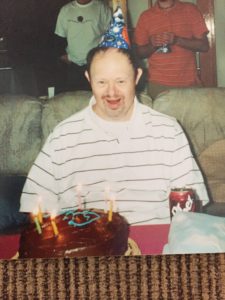 Gary was born on November 28, 1953 to Homer and Elsie Johnson. He passed away at Chisolm Trail Nursing Center on January 7, 2018.
Gary is survived by his guardians, John and Maryanne Morris and their children, Karen Morris Jordan and Adam Morris. He is also survived by his other "family" Sharon and Amy Limas, their children and the extended Limas family who were very loving and supportive during the many years he spent with them. There is no way to list all the people that were a part of Gary's life and will be saddened to learn of his passing.
We would like to especially thank the Limas family, Bluebonnet Trails, Renee Caddell, and Chisolmn Trail residents and staff, Walter Schulke his roommate, Nurse April and all the special residents that treated him like their "little boy" and Heart to Heart Hospice.
A memorial service will be held Tuesday, January 23 at 10:30 a.m. at Chisolm Trail Nursing Center.
In lieu of flowers donations can be made to Heart to Heart Hospice, Grace Lutheran Preschool or the mental health facility of your choice.
To view and sign the guestbook, visit www.post-register.com/obituaries/gary-johnson.