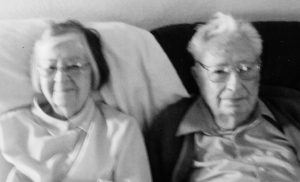 Grace Elizabeth Schelb passed away on July 28,2018 at the age of 100 in Lockhart. She was born on Nov. 4, 1917 in Elmore, Ohio to Stan and Minnie Dickman, the 2nd of 6 children and is survived by brother James Dickman of Zanesville, Ohio.
She is preceded in death by her husband of 75 years Myron Schelb and daughter Elaine (Mitzi) Schelb.
She is survived by daughter, Dianne Schmidt (Don) of Lockhart, TX; son, Galen Schelb (Mary Margaret) of Medford, OR; three grand-daughters, Susanne Schmidt Franks (Chad), Debra Roach (Craig) and Tanya Berry (Tom); also 5 great-grandchildren: Abby, Henry, Megan, Savannah and Makayla.
Grace was a longtime resident of Circleville, Ohio and an active member of St. Joseph's Catholic Church. She was an editor for the Circleville Harold and co-owner and accountant for the H&S Service. She was an avid reader and enjoyed cooking, traveling worldwide, Square dancing and many church activities.
A mass will be celebrated Aug 4, 2018 at 10 am at St. Joseph's Catholic Church in Circleville, OH with a visitation beginning at 9:00 am.
Many thanks to the caregivers of Parkview Nursing home for their love and compassionate care.
Arrangements under the care and guidance of Wellman Funeral Home, 1455 N. Court St. Circleville, OH.