Granville Murry "Buddy" Baker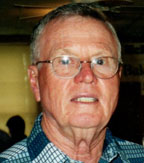 Buddy Baker died peacefully on Aug. 10, 2012, in Seattle, Washington. Husband, father, brother, grandfather, neighbor and friend,

he was loved and respected by all.
Born in Caldwell County, in McMahan "Whizzerville," Texas, on June 11, 1925, to Jesse Lee Baker and Mary Vann Baker, Buddy grew up on a farm in a small rural community. He and cousins, Garth  and Clifton Adams, were star athletes at Lockhart High School.
Enlisting in the Navy in 1943, his career as a pilot, flight instructor and administrator took him all over the world. While stationed at North Island, on Coronado, Buddy met his wife, Patricia, whom he treasured throughout his life. They raised their three children on coastlines in the Gulf of Mexico, Hawaii and Southern California.
Buddy earned a BA from Tulane University in Political Science/History and a MPA from Cal State Fullerton.  He traveled extensively through Europe with Patricia. They retired in Willits, Calif., and built a geodesic dome home in the redwoods. The library in their home reflected their interests in world history, philosophy, antiquities, literature, astronomy and art.
They loved the Willits community and supported it working for the Willits Library. Buddy tenderly cared for Patricia through the debilitating illness that took her life in 1993. He continued as a library volunteer, and as a proud booster of the WHS Athletics Program, constantly encouraging young athletes. A vigorous hiker, he knew every inch of the forest in his Brooktrails home.
Predeceased by his sisters, Geneva Harrau, Margaret Lackey and Yvonne Jones, Buddy is survived by his sister, Betty Slentz; children, Barbara Christian, Paula Hoffman and Mark Baker; grandsons, Ross and Jesse Hoffman; great-granddaughter, Adah Hoffman; and beloved nieces, nephews and cousins.
Memorial donations may be made to the Friends of Willits Library, 390 E. Commercial St., Willits, Calif.,  95490.