By LPR Staff
Editor/POST-REGISTER
The Accident
When the barking of her dog, described as a Ch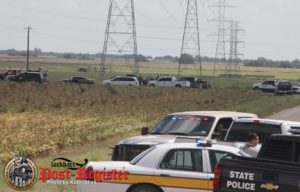 ihuahua/Jack Russell cross, shattered the quiet of a peaceful country Saturday morning,

Margaret Wylie could not have known that her 4.6-acre Jolley Road home would soon become a nesting place for national and international media.
Indeed, when the dog began barking, she had no idea what the commotion was about.
"I heard a pop, and then another pop," she said on Saturday afternoon. "I came out to the porch, and then I just saw the fire ball go up, and at that point, you just pray that whoever it was got away from it in time."
She called 9-1-1, she said, thinking perhaps a tractor had exploded in the neighboring pasture, and then went inside her home, waiting for the Maxwell Volunteer Fire Department to arrive and do their jobs. It wasn't until nearly an hour later, when the Heart of Texas Hot Air Balloon Rides "chase team" arrived, just before 9 a.m. that Wylie began to understand the magnitude of what had just happened.
As it turns out, the fire ball was the result of the tragic crash of the hot air balloon that went down after colliding with the LCRA high-power transmission lines that frame Wylie's neighborhood, killing 16.
The crash has been identified as the deadliest hot-air balloon crash in American history, and in fact, the second-most fatal in recent world history.
Sharing the preliminary results of a Federal investigation on Monday afternoon, National Transportation Safety Board (NTSB) spokesman Robert Sumwalt said it appeared as though the craft was attempting to land, based on information received from members of the chase team, as well as physical evidence at the scene.
"The top flap of the envelope (the balloon) was open, which would be consistent with bringing the craft in for a landing," Sumwalt said. "The chase team said they had communicated with the pilot and he relayed his location [via a commercial smart phone app], which is the procedure for landing the craft and telling them where to pick up."
The last communication with the craft was at 7:26 a.m., Sumwalt said. Sometime between that communication, and the initial 9-1-1 call at 7:43 a.m., something went terribly wrong.
"A very preliminary examination of the envelope shows no evidence of a pre-existing failure, or technical problems with the balloon itself," Sumwalt said, noting that unlike airplanes, hot air balloons do not have "black boxes," so piecing together the final moments of the flight would be difficult.
He did note, however, that the envelope was rated to carry between 4,200-4,400 pounds, in addition to the weight of the envelope in conditions such as those that existed on Saturday morning. He said that NTSB would be investigating thoroughly to make a final determination, but speculated that the payload weight was likely not a factor in the crash.
Sumwalt said interviews with the chase team indicated the crew had encountered heavy, patchy fog on their journey from the WalMart parking lot in San Marcos, where the crew initially met with their passengers, and the launch point at the SkyDive San Marcos airfield in Fentress. Despite the general beauty of Saturday morning, that fact, coupled with the rapidly rising temperatures and the size of the cornfield adjoining the crash site, allows for speculation that a phenomenon known as "corn sweat" contributed to lowered visibility in the area.
"Corn sweat," is a common term for the natural phenomenon of evapotranspiration, which, according to the National Center for Atmospheric Research, means that corn acts as a wick, sucking the moisture from surrounding soil and sloughing that moisture off into the atmosphere, adding to humidity rates and, in certain conditions, patchy fog.
While there was no fog in the area as the 9 o'clock hour drew near on Saturday morning, a haze hung in the air, which burned off as temperatures climbed.
Examination of the transmission lines near the crash site revealed evidence of arcing and showed a 30-foot area of "abrasions," Sumwalt said. That, along with other collected evidence, suggested some part of the craft, likely the gondola, made contact with the transmission lines likely causing the gondola to plummet to the ground.
The envelope was found, largely intact, nearly a mile away.
A source with information on the investigation, speaking on the condition of anonymity, said it was likely the 16 victims of the crash were killed instantly upon the craft's contact with the lines. Standing shoulder-to-shoulder in the gondola's cramped confines, the passengers and crew would have created one large circuit, allowing the current to transmit one to another at breakneck speed, likely taking their lives before they had the chance to realize it had happened.
Until the tragedy struck, it seems, the flight itself was uneventful – merely a pleasant Saturday morning journey amongst old and new friends.
Additional information on the flight's final moments will be available in the coming days and weeks, as the investigation proceeds.
The Investigation
Details remain sketchy and speculation looms while Federal, State and local crews sift through mountains of evidence related to the hot air balloon that crashed in the Maxwell area on Saturday morning, killing all 16 souls aboard.
The craft, a Kubicek BB85Z hot air balloon, is one of only a handful of the specialized, high-tenacity polyester balloons (approximately 110) in operation in the United States. The manufacturer, based in the Czech Republic, has historically manufactured fewer than 100 balloons per year. The company also manufactures baskets which accommodate up to 32 passengers, though it is unclear what type or size basket was attached to the Heart of Texas balloon when it went down.
According to Robert Sumwalt, a spokesman for the National Transportation and Safety Board (NTSB), the remains of the balloon (envelope) and the basket (gondola) are being transported this week to an aircraft salvage facility in the Dallas area, where they will be kept in a secure location for further study and investigation.
"Our primary goal is to find out why this happened, so we can keep it from happening again," Sumwalt said.
What is known, Sumwalt said in a press briefing on Monday afternoon, is that the craft launched from the Fentress Airpark (Skydive San Marcos) after 7 a.m. on Saturday morning, for what was expected to be a one-hour tour. The crash occurred, some 40 minutes later and eight miles, as the crow flies, just past the intersection of Jolley Road and Cistern Road, near Maxwell.
"The chase team said they maintained contact with the pilot through a [commercial smart phone] app," Sumwalt said. "At 7:26 a.m., the chase team said they had contact with the pilot, who gave them a location, which is generally an indication that the craft is about to land."
Sumwalt said the app, known as "Glimpse," is not Federal Aviation Administration (FAA) approved, but is rather a commercial application available to the public. It was unclear, he said, how far the crash site is from the coordinates the pilot shared with the chase team.
However, he said that communication was the last the chase team had with the pilot. They spent more than an hour, he said, attempting to raise the pilot via cell phone, and even calling passengers on the balloon, before stumbling on to the crash scene, just before 9 a.m. on Saturday.
Despite better than two days of near-continuous information-gathering from Saturday morning until Monday afternoon, details remained in short supply when NTSB officially closed the scene on Monday, transferring their investigative efforts to labs and data centers in Washington, D.C.
"Many of our investigators have left today, and the rest will be leaving tomorrow, or at the latest, Wednesday," Sumwalt told the Monday afternoon press gathering. "But this is just the first step of this investigation."
He said personal electronic devices, including cell phones, cameras and tablets, had been collected and were being shipped to Washington as part of the investigation.
"Of course, if people… if family or friends have photographs, videos, or anything else [the victims of this tragedy] sent out before or during the flight, we want to see those," he said. Any information, he said, would help investigators to piece together what brought about the tragic end of the Saturday morning flight.
Sumwalt said there were three main factors at play in determining the cause of the crash: the equipment, the operator and the environment.
The equipment, according to Sumwalt, appears at first blush to have been effective and up-to-date. He said the equipment log on the balloon itself dated from the 2014 production date until September 2015, and showed a current maintenance and inspection record. However, records after September 2015 were unavailable. Sumwalt said the current maintenance log may have been on board at the time of the crash, and hence destroyed in the blaze. However, inspection and registration on the craft were timely, he said, and the envelope showed no immediate signs of defect or technical deficiency.
The pilot, identified by Heart of Texas Balloon Rides as owner and lead pilot Alfred "Skip" Nichols, was lauded by many former passengers as "a great pilot," who loved sharing the joy of the first flight with his passengers. Though a past record of substance abuse issues has come to light in recent days, Nichols was largely regarded as a "safety-first" pilot, who had no qualms about cancelling flights if conditions were not favorable for ballooning trips.
Nichols received his commercial balloon pilot license in 1996, and friends say he had been in recovery for his prior substance abuse issues for more than four years.
The environment is somewhat of an "X-Factor." Ground crews reported incidences of heavy fog in low-lying areas, during their van journey from the WalMart parking lot at San Marcos, to the launch site in Fentress. Sumwalt noted the crew launched "test balloons" at both locations to determine wind direction and atmospheric conditions. However, he said, it is difficult to ascertain whether wind speeds or other conditions changed during the course of flight.
It could be weeks, or even months, according to NTSB, to determine the totality of the factors that brought Saturday morning's flight so tragically to the ground.
The Loved Ones Lost
Voices have raised in support and grief since Saturday morning, as details emerge identifying the 16 victims killed in the tragic Maxwell-area crash. Caldwell County Justice of the Peace Matt Keily, as of Friday, had confirmed the names of 13 of the victims. The three remaining victims will be identified using either dental records or DNA.
However, social media and other sources have been more forthcoming, as friends and families take to the Internet to remember 16 men and women who set out for a Saturday morning adventure and, heartbreakingly, never came home.
Paige and Lorilee Brabson (Confirmed)
Setting out for a day of mother-and-daughter fun, Lorilee and Paige Brabson boarded the gondola on Saturday morning after posting several silly selfies, as they set out to enjoy a girls' day out purchased by Paige, a cosmetology student and server at La Hacienda in San Antonio.
Paige was the mother of an 11-month-old daughter; it was the child's father who initially broke the tragic news of Paige's passing on social media.
The trip was reported to have been a gift from Paige to her mother, who family members said had a "bucket list wish" to take a hot air balloon ride. The pair, both natives of Colorado Springs, Colo., were said to have moved recently to San Antonio. Both posted several photos and videos to their social media accounts, according to family members, and appeared to thoroughly enjoy the trip before tragedy struck.
Paige leaves behind her infant child and a brother, while Lorilee leaves a son, siblings, and several other family members. A GoFundMe account has been set up to benefit Paige's daughter, and services have not been announced as of press time.
Ross and Sandra Chalk (Confirmed)

The Wimberley couple, evidently celebrating their first anniversary, will be remembered for their kind spirits and acts of service in their community, and through their jobs.
Scott and Laura Douglas (Confirmed)
Scott, 47, took his wife, Laura, 46, a Realtor whom he married only three years ago, on what friends called a "romantic getaway." Neither could have known the day would end in heartbreak.
Scott met his wife at Caterpillar, Inc., in Victoria where both worked. According to a friend, the two hit it off instantly, and Laura wanted to take the balloon ride to do something "fun, different and romantic."  Scott changed careers, moving to Multi-Chem in 2014, according to friends. He later transferred to a division of Occidental Chemical Corporation, and the couple planned to sell their Victoria home and move to the beach, a friend told the Victoria Advocate this week.
Social media posts to the couple's accounts suggest Laura had a son, and the couple shared a dog together.
Services for the pair have not been announced.
John and Stacee Gore (Confirmed)
For some time, John and Stacee Gore planned to celebrate their May 18, 2013, anniversary soaring through the clouds on a hot air balloon. Earlier trips had been cancelled, but the pieces fell into place, and the couple were able to travel from their Mineral Wells home to San Marcos for their long-awaited third anniversary celebration.
John, 33, was the father of two sons, Tyler and Kyle. His wife Stacee, 31, brought to their blended marriage her two children, Daysee and Devin. Together, the two were preparing to take life by the horns, with their children, one who suffers from autism, tucked safely between their wings. Both were active in Cavalry Baptist Church in Mineral Wells, and both hoped to enroll their children in a Christian school.
Suffering setbacks several years ago related to alleged arson cases in 2011, family members said John was committed to turning his life around, and building a life with his new wife.
The pair leave behind their four children, their parents, and many loving siblings, family members and friends. A joint memorial for the couple is slated on Saturday, Aug. 6, at 10 a.m. at First Baptist Church in Mineral Wells.
Holly Huckabee
Holly Smith Huckabee, 50, was a founding member of The River United Methodist Church in Richmond. Friends said she was so eager for the dawn balloon flight that she asked to take off work early on Friday, in order to prepare.
Church members expressed their condolences on the congregation's Facebook page, noting her unshakeable faith, her caring and service to her family and her church, and her infectious smiles. The Church said services would be announced when information became available.
The Katy-based paralegal and native of Jal, N.M., posted a photograph of the Heart of Texas Balloon Rides gondola on her Facebook page shortly before the launch, friends said.
She leaves behind a son, a daughter and two grandsons.
Brian and Tressie Neill (Confirmed)
At 3:53 a.m. on Saturday morning, Tressie Neill posted a "selfie," proclaiming she was "up early heading out to the anniversary surprise Brian's had planned for months."
The San Antonio couple was celebrating 23 years of marriage.
Her final social media post came at 6:12 a.m., a message stating, "Do you ever look at your child and start smiling? Not because your child did something amazing, just smiling because that's who God blessed you with."
Friends seized on the message, noting that even to the last, Tressie loved her children and her God.
While the balloon was in the air, husband Brian texted his brother a photograph, asking, "can you see our reflection in the clouds?"
A GoFundMe.com page dedicated to helping to raise money for their funeral expenses notes, "Both believers in Jesus, we know both of their souls are now with the Lord, and our family will forever see their reflection in the clouds."
The pair leave behind two daughters, aged 16 and 20. Services have not been announced.
Alfred "Skip" Nichols (C0nfirmed)
Balloonist and dog lover, Skip Nichols, 49, will be remembered as a friendly and free-spirited man, who loved sharing his passion with his passengers.
The owner and chief pilot of Heart of Texas Balloon Rides, Nichols often posted photos and videos of himself and his passengers to his personal and business social media feeds. Without exception, the photos illustrate what his friends' accounts have said, that Nichols loved life, loved flying, and enjoyed being able to share the experience with others.
Apart from balloons, Nichols' social media accounts were flooded with photos of his beloved pets. Indeed, when news of the crash broke, friends attempted coordinate almost immediately the care of the animals, knowing that it was what Nichols would have wanted.
Though he had rocky times and substance abuse issues, friends said Nichols had been sober nearly four years, and suggested in that sobriety, Nichols was able to find even more joy and passion for life.
He leaves behind his mother, his sister, and many loving friends, both in Texas and in his native St. Louis, Mo.
Joe and Tresa Owens (Confirmed)
Joe and Tresa Shafer Owens, of Katy, will be remembered as caring friends and devoted, loving parents.
According to his Facebook page, Joe worked at H-E-B, and checked into the San Marcos Comfort Suites at 4:07 p.m. on Friday, before joining "my love and bestest friend, Holly [Huckabee]" for dinner at the Root Cellar later that evening.
Friends said Tresa had been an employee at Katy's Tiger-Land Day Care for nearly 25 years, a place where Joe was often a fixture, as well. "The school does a Thanksgiving dinner, and Joe always takes a vacation day from work to come and help," one said.
The pair leave behind three children and four grandchildren, who are frequent fixtures on their social media accounts. There was no record of services scheduled at press time, but family friends had opened a GoFundMe.com account requesting help for the children to finance their final arrangements.
They were believed to be traveling with Huckabee, and the three had apparently been looking forward to the trip for some time.
Matt and Sunday Rowan (Confirmed)
Matt and Sunday Stewart Rowan, both 34, were avid volleyball players. It was, in fact, Matt's missing a volleyball tournament that triggered friends to wonder whether he and his new bride, only just married in February, had been involved in Saturday's tragedy.
Matt, a researcher and Aggie (Class of '04), was recently promoted to chief of clinical trials for burns and trauma at Brook Army Medical Center's Institute of Surgical Research. His wife, described as "perpetually cheerful," was an employee at San Antonio Boutique Crazy 8.
They leave behind Sunday's son, and a host of family members and friends.