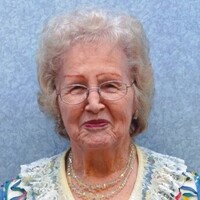 Iola Homann Canady went to heaven March 15, 2022, at the age of 91. She was born to Kenneth C. and Mabel M. Blue on February 11, 1931.
Iola is survived by her daughters, Larae Ward (Steve), Ronda Lehman (Brad) and Betty Roxanne Rossomano and her Grandchildren, Great-Grandchildren, nieces, and nephews. Preceded in death by her parents, Kenneth and Mabel, husbands Louis Homann and William "Bill" Canady, sisters Lois Lee, Fern Eddy, and brother Kenneth (Kenny) Blue and daughter Jolen Homann.
Working in the insurance industry for many years, Iola made many friends along with extended family members.
Iola spent many hours dancing and the polka was her favorite. After moving to Austin Iola became very active with the Senior Center on Manchaca and then later with the activities offered at Brookdale Senior Home. Iola looked forward to her days of games, dancing, art, and music. The last few years her dancing was limited but that did not keep that foot from tapping while listening to music.
Iola will be cremated per her wishes, and a graveside service will be held on April 23, 2022, at 2PM at the Memory Lawn Cemetery in Martindale, Tx. You are invited to sign the online guest book at Beck Funeral Home Cedar Park, Texas.
In lieu of flowers, donations may be made in her memory to the American Heart Association, a Senior Activity Center, or a Charity of your choice.