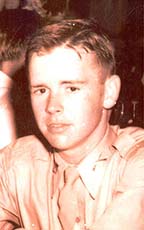 src="https://post-register.com/wp-content/uploads/2014/09/WebObitPayne2.jpg" alt="WebObitPayne2″ width="144″ height="234″ />
James LeRoy "Jim" Payne, 89, went to be with his Lord and Savior on Sept. 17, 2014. Born in Glasgow, Ky., on Oct. 28, 1924, Jim moved with his family to Texas at an early age, where his stepfather worked in the oil patch and in construction.
Jim graduated from high school in Breckenridge, Texas and attended Texas A&M where he studied petroleum engineering. World War II called, and he never finished his degree there, but was immensely proud to be a Fightin' Texas Aggie. Jim served his country as an officer in the U.S. Army 158th Regimental Combat Team (the "Bushmasters") in the Philippines, and later with occupation forces in Japan. As a young lieutenant, he was given great responsibilities at the Port of Yokohama. His time in Japan had a profound effect on him, and he came to love the Japanese culture and people.
Jim returned home, met and in 1950 married Grace Jones, a beautiful young nurse. They lived in Houston many years and were blessed with three children: Patti A. Payne, Paula G. Hastings, and Steven K. Payne. His beloved Grace died of cancer in 1986. Lightning struck twice, as he later was re-acquainted with Grace's nursing school roommate, Georgia Wright Von Conrad. They married in 1990 and began to look for a small town to live in. They discovered Llano, Texas, bought a house on a hill, and were active and enthusiastic members of Grace Episcopal Church. Jim loved Llano, its people, his church and the Wednesday night "prayer meetings" at the Badu House. Jim lost his second love, Georgia, in 1998.
Jim worked for National Supply and other oilfield companies, and as a consultant, before opening his own oil and gas headhunter firms in Houston. He spent his later years as an investor.
In 2009, Jim moved to Lockhart to be closer to family.
Jim is survived by his sister, Dorothy Sue Payne Cole and her husband, James; daughter, Patti Payne and her husband, Todd Blomerth, and daughter Paula Hastings and her husband, Glenn; three grandchildren, five great grandchildren and numerous nieces and nephews. He is pre-deceased by his parents, Rollie Payne and Flossie Lily Payne Gilbreath; stepfather Julian H. Gilbreath; his son Steven K. Payne, and granddaughter, Sarah Elizabeth Payne Blomerth.
A memorial service will be held at Emmanuel Episcopal Church, 118 N. Church St., Lockhart, on Sept. 27, 2014, at 2 p.m. Jim will be buried next to his beloved Grace in the Houston National Cemetery.
The family gratefully acknowledges the loving care given Jim by his wonderful caregivers, Johnny Zuniga, Margarita Biddy, and Paula M. Ramirez.
The family requests that any memorials in Jim's name be made to Grace Episcopal Church, 1200 Oatman Street, Llano, Texas 78643, or to the Cure Alzheimer's Fund, 34 Washington Street, Suite 200, Wellesley Hills, Mass., 02481, www.curealz.org.