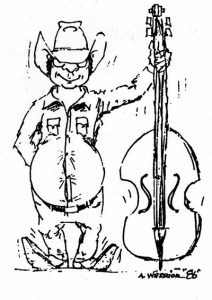 Music is always in the air in Austin and Central Texas but the venue has changed for one of its noted bass players, Jerry Stephen Lightsey, 82.
Jerry passed away Oct. 25, 2017, after battling Parkinson's for several years. He was born Jan. 23, 1935 in Austin, Texas to Stephen Monroe Lightsey and Pansy Sutton Lightsey.
He was preceded in death by his parents; three sisters: Mignon Wagener, Louise Marie Graham and Yvonne Duderstadt; brothers, Kenneth and Donald Lightsey; daughter DeLeslyn Lightsey; grandson, Joseph Debeneato; and granddaughter, Kayla Crumley.
Jerry is survived by his sister, Jo Larue Stannard, of Buda; his son, Steve Lee Lightsey, of Tahlequah, Okla.; daughter, Dawn Dennette Stone and husband, Michael, of Round Rock; and Kimberley Rodgers, of San Angelo, Jerry is also survived by the love of his life, Louise Owen Lightsey. Also surviving him are six grandchildren, six great-grandchildren, and one great-great-grandchild; numerous nieces and nephews and family members; and a host of dear friends and large host of musician friends from coast to coast.
He grew up and lived in Austin all of his life. When he was of 15, his father instilled a lifelong love of music by teaching him to play the guitar and upright bass. His father, Steve Lightsey, had the first western swing band in Austin during the 1950s. Jerry started playing with some friends in junior high school. They played parks in the Austin area including music shows at Zilker Hillside Theater. Jerry joined a band in the early 50s and played dances in the central Texas area.
In 1957, Jerry volunteered to join the US Army. He was stationed with the US Army in Stuttgart, Germany as a Peace Keeper. Upon arriving on Post, the first thing he did was purchase an upright bass and gathered musicians to play in the NCO club and other gigs. He was honorably discharged in 1959.
After his time in the Army he played with Aubrey Lowden, Jack Hill, Buck Fowler and the Black Diamonds, Dave Perry and the Swing Boys, Marsha Karr, Dan James, Bobby Roberts and the Ramblers, Adolph Hofner and the Pearl Ramblers, and Doug and the Swing Boys. These gigs were played at Club 21, Gils Club, The Skyline, The Broken Spoke, The Hilltop Café, Big G's, and Dessau Hall. In recent years Jerry has played with the Over the Hill Gang from Austin, with Jody Meredith, Dowell Smith, Joe Villegas, Junior Burrow, Jim Brown, Jimmy Grabowske, and Ray Tesmer and with his own band, The Five Strings. On May 17, 2014, he was honored by his induction into the Texas Western Swing Hall of Fame.
Jerry loved fishing. Every chance he got, he would escape out to the lake or the coast with dear friends and family. He and Louise travelled extensively and loved to go to new and exciting places with their close friends.
In his spare time from music and fishing, Jerry was a plumber and pipefitter for more than 50 years. He was a member the Plumbers and Pipefitters Union Local #286, of the Scottish Rite Temple Hill City Masonic Lodge #456, and Ben Hur Shrine of Austin. He served as a deacon and elder of South Austin Christian Church. He was also a member of local charities and clubs that served the greater Austin community.
Visitation was from 11:30 a.m. – 1:30 p.m. on Monday, Oct. 30, 2017, at Weed-Corley-Fish Funeral Home 2620 South Congress with Funeral Service to begin at 1:30 p.m. Interment followed to Jeffrey Cemetery, McMahan, Texas.
Arrangements by Weed-Corley-Fish Funeral Home, 2620 S. Congress, Austin (512) 442-1446.