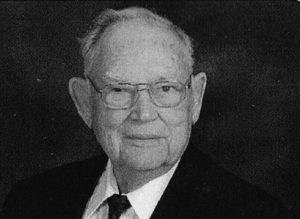 Joe Marvin Rector, of Lockhart, TX passed away on October 13, 2018 at the age of 93. He was born on January 2, 1925 in Caldwell County to Marvin and Virginia Mae (Gray) Rector. After Lockhart High School graduation, Joe joined the US Navy and was assigned to officer training at the University of Texas at Austin. He was later assigned by the Navy as a submariner in WWII. His submarine patrolled the East Coast of the United States to prevent hostile attack. After his honorable military discharge in 1946, Joe returned to Lockhart and married Mary Nan Chapman on June 14, 1947.
Joe was a distinguished public servant as Caldwell County Tax Collector, 1952 – 1966; LISD School Tax Collector, 1966 – 1980 and the Caldwell County Appraisal District Appraiser 1980 – 1987. He retired following 35 years of service to Caldwell County.
Joe and his wife, Mary Nan, loved traveling and spending time with family and friends. He was proud of a record setting salmon he caught in Alaska while on vacation in 1988. Joe was a member of First United Methodist Church of Lockhart, a lifetime member of the Kiwanis Club and of the American Legion Henry T. Rainey Post 41. He was an avid genealogist, loved Texas history and music.
He is preceded in death by his wife, Mary Nan (2005); brother, Billy Rector and sister, Geneir Cunningham. Joe is survived by his son, George M. "Buddy" Rector and his wife Linda of Jasper; daughter, Marijo Rector Hartman and her husband Howard of Austin; granddaughters, Alice Duckworth and her husband Brandon and Leslie Williams and her husband Justin; five great granddaughters: Addison and Gracyn Duckworth, Emerson, Caroline and Harper Williams; sisters-in-law, Barbara Hoffman Chapman and Jennie Lee Sanders both of Lockhart and numerous nieces and nephews.
The family appreciates the care and friendship given to him by the residents and staff at Bois D'Arc Assisted Living, Lockhart.
The Rector family will receive friends and family at McCurdy Fuenral Home on Thursday, October 18, 2018 from 5-7 p.m.. A funeral service will be at the First United Methodist Church on Friday, October 19th with Rev. Nancy Day presiding at 3 p.m. Burial will follow at the Lockhart City Cemetery with Navy Military Honors presented. Memorial contributions can be made in Joe's memory to the First United Methodist Church, 313 W San Antonio St, Lockhart, TX 78644 or to a charity of your choice.
Arrangements are under the care and guidance of McCurdy Funeral Home in Lockhart.