Juanita (Janie) Cruz Cuellar-Rubio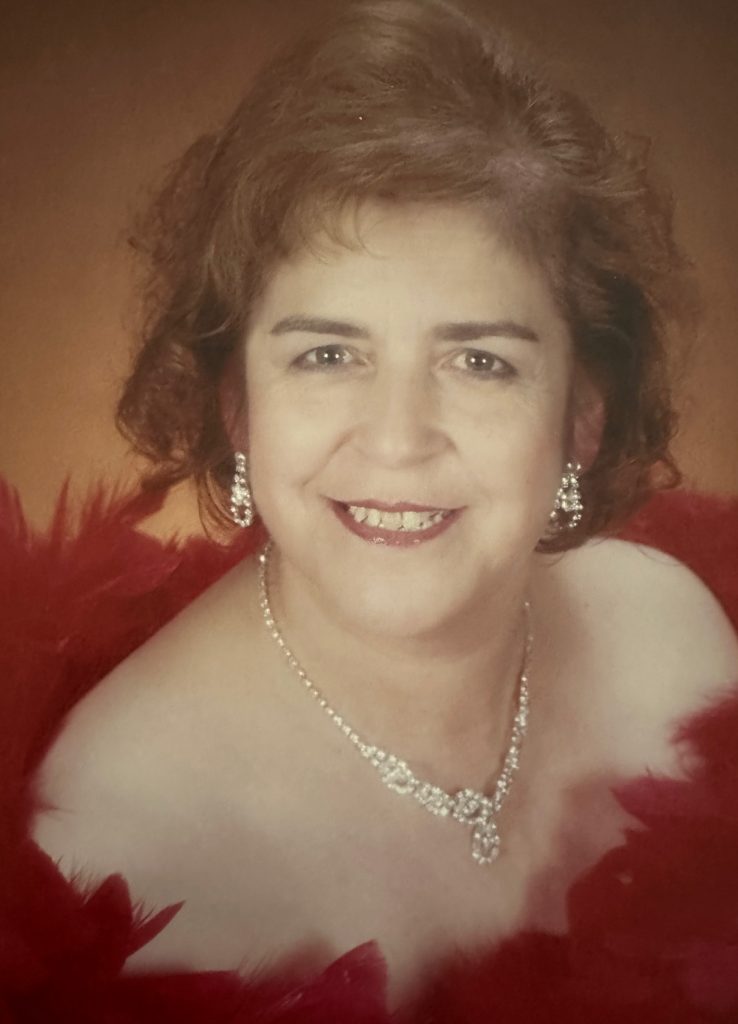 Juanita (Janie) Cruz Cuellar-Rubio was born on June 22, 1946 in Lockhart, TX, and passed away at her home in Kyle Tx, on May 16, 2023 at the age of 76 years old. Juanita was the daughter of Eva Cruz Cuellar and Frutoso Cuellar.
Juanita was predeceased by mother, Eva Cuellar; father, Frutoso Cuellar; brother, Santiago (Jimmy) Cuellar; brother, Frutoso Cuellar Jr; aunt, Hermelinda Cuellar. She is survived by Edward Rubio (Spouse), James Cuellar (Son)( Gerardo C Borjon), Jeanette Ortiz (Daughter)(Pablo Daniel Ortiz), and Grandchildren, Christopher Garcia, Eric Melendez, Vanessa Melendez, Alyssa Melendez. Survived by 3 Sisters.
Juanita (Janie) Cuellar Rubio, Janie Started her Civil Service career in 1970 as Seasonal employee with the Internal Revenue Service center in Austin Tx. She worked in various departments and held different positions during her 11 years with the IRS. She transferred to the District Office with the IRS in September of 1984 as the Appointment Clerk for the Tax Auditor in San Antonio Tx. On May 28, 1985 she transferred to Ft Sam Houston in the Finance office as a Voucher Examiner in Accounts Payables. She was assigned to the San Antonio Operating Location on February 1997 as an Accounting Technician in Army Accounts Payables Branch. She worked 15 years in Vendor Pay.
She enjoyed her Guadalupana's organization in celebrating all the festivities that came along with the organization. Including Fundraisers making tamales, bake sales, and asking for donations for raffles for St Anthony's Church in Kyle Tx. She was also on the Rosary Bead Committee and enjoyed learning how to make Rosary's. She will be remembered as a fun-going person who loved music and dancing and was a very social butterfly who spoke to anyone and everyone. She was a mother that was devoted to her son and daughter. As for her grandkids, they were all 4 special to her. She was a grandmother that would do anything for them at any time. She was married to her Husband Edward for over 35 years. She enjoyed watching her novels and her morning soap operas and game shows. She also enjoyed her shopping and was always able to find a good deal anywhere. Always proud of how much she saved on her purchase. She was a very giving and caring person that would always do for others before she would do for herself.
Public Visitation was held from 5:00 – 7:00 p.m., Monday, May 22, 2023, at Harrell Funeral Home of Kyle (1715 Kirby, 78640) with a Rosary at 7:00 p.m. Funeral Mass was held at 10:00 am, Tuesday, May 23, 2023, at St. Mary's Catholic Church, 205 W. Pecan in Lockhart, TX with burial following at St. Mary's Catholic Cemetery in Lockhart. Harrell Funeral Home of Kyle handled the arrangements.
Pallbearers were Christopher Garcia, Eric Melendez, Danny Ortiz and Gerardo Borjon.