Lady Lions lock up 20th hoops win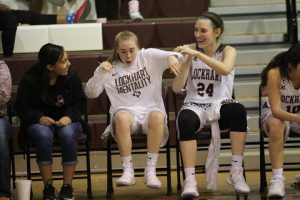 From Staff Reports
The Lockhart Lady Lions split their games last week but accomplished a rare milestone for the program: their 20th win of the season, defeating Alamo Heights 57-48 on the road on Friday night.
"If I'm not mistaken, this hasn't happened in some time," said assistant girls basketball coach Alexis Aviles Marrero.
Alamo Heights didn't make win No. 20 an easy one for the Lady Lions, who held just a 27-21 advantage at the half. Lockhart used a 14-9 third quarter to build up a cushion that would withstand a 17-point scoring barrage from Alamo Heights in the final frame.
The Lady Lions had three scorers finish with double digits against Alamo Heights.
Princess Daniels powered Lockhart's attack with 21 points on 8-of-15 shooting from the court and 5-of-9 free throw shooting. Kara Pickle added 18 points on 7-of-17 shooting from the floor and went 4-of-4 from the free throw line. Sydney Shaw contributed 12 points.
The junior varsity fell 47-29 against Alamo Heights.
Earlier in the week, the Lady Lions fell at home 48-31 to Dripping Springs. Princess Daniels and Kara Pickle each finished in double digits, with Daniels scoring 16 and Pickle adding 11, but Shaw was the only other scorer for Lockhart, adding four points.
Pickle and Daniels kept Lockhart in the game, though. The Lady Lions overcame a 7-4 first quarter deficit to manage a 16-14 halftime lead before Dripping Springs pulled away.
The junior varsity lost 74-25.
Tough season continues for Lions
The Lockhart Lions went 0-2 in District 26-5A play last week, falling to Dripping Springs on the road and Alamo Heights at home.
Undefeated Alamo Heights was a tricky opponent for the Lions, and coaches said the visiting team played like a district front-runner against Lockhart in the 68-41 Lion loss.
"The Lions played hard and tried to keep the Mules guessing, but the Mules ran the floor well and recorded most of their points in transition," said assistant coach Elijah Gonzales.
Adam Romero scored 9 points for Lockhart. Devin Clark added 8, and Austin Garcia and Miguel Partida each had 6.
The junior varsity fell 54-32.
Against Dripping Springs, the Lions were competitive after a slow start, ultimately falling 55-42. Dripping Springs raced out to a quick start and extended their lead to 39-16 at halftime.
Adam Romero led the Lions with 17 points while fellow junior Devin Clark followed with 11 points.