UPDATE (5:55 p.m.): Police to be on scene during drop-off, dismissal after parent reports seeing gun in car traveling near Clear Fork Elementary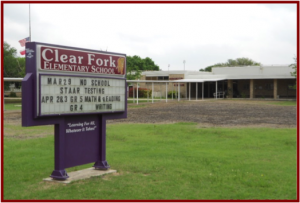 LPR Staff Report
UPDATE (March 8, 5:55 p.m.): LISD Superintendent Dr. Susan Bohn provided the parents, guardians and the media with detailed information about an incident in which a parent reported seeing a gun inside a vehicle that was traveling on Clear Fork Street near Clear Fork Elementary during dismissal on Thursday afternoon.
Bohn said the principal at approximately 3:05 was notified by a parent that a person driving in front of the school appeared to be in possession of a gun in his car as he drove by.
The principal immediately pulled all students back inside. All students are safe and unharmed, Bohn confirmed in her report.
Lockhart police were called to the scene and students were released once police confirmed the scene was safe, Bohn said.
Bohn said what the district has learned is there is a dispute between the person spotted in the car with a gun and another adult who happens to be a parent of a student at Clear Fork. Law enforcement and district and campus administration have arranged for the person, who is the involved parent, to refrain from dropping off or picking up at the campus anymore. Additionally, the parent will not be on the campus at all for safety reasons, Bohn said.
The incident is under investigation by Lockhart police. Bohn said the investigation is not related to the school.
The district would not provide additional details because the investigation was active, Bohn said.
Lockhart police will be on scene during drop-off and dismissal on Friday to provide additional security, the district said.
Bohn said she was grateful to the parents for their patience during the delayed dismissal and commended the parent who reported seeing the gun.
"We would like to thank the parent for quickly reporting seeing the individual with a gun, our staff for responding quickly to get children to immediate safety, the parents for their patience as we worked to keep children safe and work with law enforcement, and LPD for being on scene quickly and working to keep our students, parents and the staff safe," Bohn said.
ORIGINAL POST: Lockhart police were at Clear Fork Elementary on Thursday afternoon after a parent said they observed someone driving on Clear Fork Street in front of the campus with what appeared to be a gun in his car.
The sighting was reported during dismissal at Clear Fork Elementary. District spokesperson Christina Courson said a teacher helping conduct dismissal pulled all remaining students back inside and didn't release them until Lockhart police, who were called to the scene, confirmed it was safe to do so.
Courson said she called all Clear Fork Elementary parents and apprised them of the situation. She planned to follow up with an e-mail to all parents after the call, she said.
"All students are safe," Courson said.