Local fugitive nabbed at border
By LPR Staff
Editor/POST-REGISTER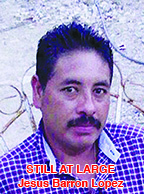 After more than a decade in hiding, former Lockhart reside

nt Audrey Hurtado Lozano was arrested in Del Rio over the weekend, as she attempted to cross the border from the Republic of Mexico.
Lozano, who also goes by the name "Adriana Lozano Barron," was indicted by a Caldwell County Grand Jury in May 2003 on six separate charges of Injury to a Child, and for causing "serious mental deficiency, impairment or injury."
Her victim, at the time, was two years old.
The indictment against Lozano, 34, alleges that she, along with her child's father, Jesus Barron Lopez, now 42, caused multiple injuries to their child, which eventually required medical intervention. Not long after the Lockhart Police Department engaged in an investigation into the pair, they fled.
Barron-Lopez remains at large.
Under the direction of the United States Marshal Service, the Lone Star Fugitive Task Force initiated an investigation into Lozano's whereabouts, earlier this year, as a part of an initiative focusing on fugitive investigations from "small Central Texas towns."
During the course of this investigation, it was learned that Lozano had fled to Mexico upon leaving Caldwell County in 2002. It appears that she and Barron-Lopez separated shortly after they fled, and USMS representatives expect that he remains in the Republic of Mexico.
Task Force investigators focused investigative efforts in the Cuidad Acuňa, Coahuila, across the border from Del Rio, Texas, where information provided to the task force determined she was now residing.
The investigation was transitioned to Mexican law enforcement authorities in recent weeks resulting in Lozano's apprehension at the Port of Entry.  Lozano was remanded to the custody of the Val Verde County Jail pending her extradition to Caldwell County.
"The child victim in this case suffered significant injuries including multiple fractures," said Caldwell County District Attorney Fred Weber. "We are grateful Ms. Lozano will be returning to Caldwell County to stand trial."
Lozano is the second Caldwell County fugitive in less than a month to be apprehended after fleeing to Mexico.
John Erick Anderson, 54, was expelled from Puebla, Mexico last month after a collaborative investigation by local, federal and Mexican officers resulted in his removal for violating his Texas parole.  Anderson was a DPS Top 10 fugitive and was on the lam for 17 years before he was apprehended by Mexican authorities.
"Our continued enforcement efforts to assist local law enforcement in reducing the fugitive backlog and hold those accountable for their criminal actions will continue to be a cornerstone of our mission," said Hector Lozano, the commander of the Lone Star Fugitive Task Force.
Anyone with information on the whereabouts of Jesus Barron-Lopez, or any other fugitive currently fleeing justice, is encouraged to contact the Lone Star Fugitive Task Force at (512) 800-4213, or phone the local authorities. All tips are kept anonymous.