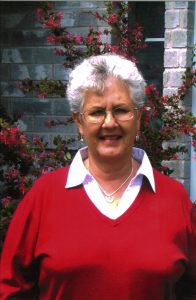 Mrs. Mary Ann Whited, 71, of Lockhart, died January 16, 2018 at Hospice Austin Christopher House.  Mrs. Whited was born in Lavaca County, Texas on May 18, 1946 to Frank and Anna Culak.  Mrs. Whited was united in marriage to Odell "Snookie" Whited on February 12, 1965. She was a school bus driver for the Lockhart School District for over 37 years. Mary Ann enjoyed working in the yard, cuddling with her dogs: Lexi and Kloe and most of all she enjoyed playing the slot machines.
She is survived by her daughter and son-in-law, Melissa and Lynn Horn of Lockhart, step-daughter Carolyn Fowles of Marble Falls, Texas; two grandchildren: Mason Owen and Michaela Owen of Lockhart, Texas; seven step-grandchildren:  Darla Kay Green, Buford Wayne Whited Jr., Justin Dale Whited Jr., Candy Sue Dorsett, Darla Sell, Sherry Newman and Danny Lee Kelley, and eleven step-great grandchildren.
Mrs. Whited was preceded in death by her parents Frank and Anna Culak, brother, Adolph Culak, husband, Odell "Snookie" Whited, son, Harlan Dale Whited and two step-sons, Justin Dale Whited Sr. and Buford Wayne Whited, Sr.
A visitation will be held on Friday, January 19, 2018 for her family and friends. Funeral services will be held at Eeds Funeral Home on Saturday, January 20, 2018 with Pastor Roger Wilson officiating.  Serving as pallbearers are Norman Schoener, Calvin Welfel, Ronald Welfel, Richard Simons, Steve Tabott, and Floyd Welhelm Jr.
The honorary pallbearers are: Mason Owen and Michael Andrews.
In lieu of flowers, donations can be made in Mary Ann Whited's name to the Hospice Austin Christopher House. Website is https://www.hosproceaustin.org
Arrangements with Eeds Funeral Home, 408 South Main, Lockhart, Texas,  (512) 398-2343.
To view and sign the guestbook, visit https://post-register.com/obituaries/mary-ann-whited